South students, volunteers finishing last bowls for fundraiser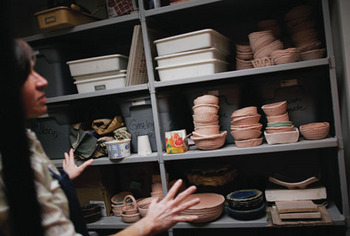 Nashua High School South students and other volunteers are spinning, spinning, spinning their way through the last few of 700 custom-made ceramic bowls in advance of the 14th annual Empty Bowls. The school's art teacher Robin Peringer has organized the fundraiser for the Nashua Soup Kitchen & Shelter since 1995, and the event has become so popular, she's had to limit attendance to 600. "We want to keep it simple . . . and keep it in the spirit of those who truly do have empty bowls," Peringer said. "It's a lot of fun for me; I look forward to it."
Peringer and the school's National Art Honors Society students spent time after school this week crouched over pottery wheels in one of the school's art rooms making the last of the bowls that will be used at the event.
Tickets are available at the soup kitchen and at Nashua South's main office for $12; they will get you one of the bowls first to eat soup donated by about 30 local restaurants, such as Villa Banca and the Pine Street Eatery, and then to take home, Peringer said.
The event, which also features music from the Nashua South Jazz Band and a silent auction, typically raises around $10,000, she said.
Several of the students making bowls and calling restaurants for donations of soup and bread Thursday afternoon have participated for several years. "It's a good cause," said senior Magdalene Pattantyus, who is volunteering for the third year. "We're able to donate a lot of money to those less fortunate than us. If I can help out through something I feel passionate about, it's a win-win."
Nate Terrin, another senior, is the chief student organizer this year after volunteering the past two years.
"I just really like giving back with something I really enjoy," he said. "It's just cool to see how many people care about the wellbeing of people and who donate what they can. It's cool to see the faces of the soup kitchen people when they come to collect at the end of the night."
More Photos?
Each bowl takes about an hour of work between shaping, trimming, drying, glazing and kiln firing, Peringer said. Pottery students each make two as part of their class work. The rest are done by volunteers like Pattantyus and, on Thursday, three generations of Dollets.
"It's fun to do," said Andrea Dollet, who was there with her mother, Gabi Dollet, and daughters, Erika, 16, and Alison , 14. "I always think it's good to get my daughters involved in volunteer work."