Soup kitchen to get $500k if residents give the same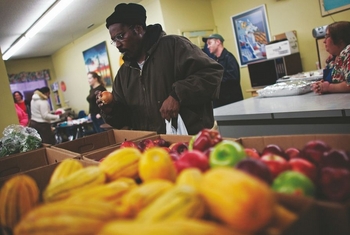 Norma Robitaille left her Prospect Street home Thursday morning to make the same commute she has for 21 years.
Robitaille, now in her 80s, walks out the door and directly across the street each morning to serve food at the Nashua Soup Kitchen & Shelter.
But on this day, things were a little different. There was a buzz about the place as volunteers packed bags of bread and produce to be distributed in the afternoon to people who line up outside the door.
Lisa Christie, the soup kitchen's executive director, had just announced that an anonymous donor was offering to give them up to $500,000 – much needed money to buy food and move to a larger building.
But there's a catch: People in Greater Nashua have to give money, too. The donor is offering to match all monetary donations through the end of the year, up to a maximum of $500,000.
"Right now what we really want is money to maximize this donation," Christie said. "We've never had a donation of this magnitude. And it really couldn't come at a better time."
As the economy continues to slow, soup kitchen staff and volunteers say they're seeing more and more people walk through the door. Some have lost their jobs; others are struggling to pay higher grocery prices.
Last year, the soup kitchen gave out 480 bags of food in the first three months of the fiscal year – July, August and September. This year, that number was up 40 percent to 780.
"We're having new families coming in, saying, 'You haven't seen me before because I used to be at work this time of day,' " Christie said. "Everybody's having a tough time."
Half a million dollars would certainly go a long way at the Nashua soup kitchen. It usually takes the organization a full year to amass that amount of money in donations.
The money would help buy more expensive food like meat and produce that is often in short supply, Christie said. And staff is hoping to use some of the money to move to a larger facility. The current kitchen, with a seating capacity of fewer than 50 people at once, is cramped, she said.
In 1981, the soup kitchen opened its doors three times a week to serve soup and sandwiches. Now, it's open seven days a week, serving 50,000 meals a year. Robitaille said breakfast Thursday morning was so busy that they almost ran out of eggs. There were 67 people, instead of the usual 40.
"That money's going to help us a lot," she said. "We have a lot of new people. I don't know where they came from."
Eileen Brady, the soup kitchen's social worker, said she sees about 20 new faces a week. She first noticed a spike in people walking through the door about eight months ago.
Although the price of food is up, the amount of food stamps allotted hasn't changed, Brady said. And the state has cut back on funding for mental-health services, including drug and alcohol counseling, which leads to more people turning to the soup kitchen for help, she said.
But Brady said this donation lifts her spirits.
"It bolsters my theory that when things get bad, people get more generous," she said.