Sounds of crews in town build hope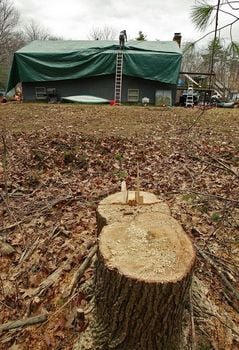 MERRIMACK – A powerful brigade from Maryland moved in from the west, and a swift-moving company from Quebec worked its way from the east.
But no battle would break out when these two forces ultimately converged on South Baboosic Lake Road. Instead, chances are that power would be restored to dark neighborhoods.
As Joel Levine and his daughter, Kaylee, chatted with neighbor Eleanor Foushi on Monday afternoon, these beleaguered residents could hear Maryland-based BGE crews approaching from the right, and in the distance to the left was the sweet sound of machinery from Hydro-Quebec workers.
The Levines and Foushi, as with hundreds of other residents in the northwest part of Merrimack, had lacked electricity for four days.
"I have a little space heater," Foushi said, whose thermometer dipped as low as 40 degrees. "The cat and I get under the blankets and do the best we can. But it gets cold."
She has run a gas generator to power the space heater and a microwave, but it won't mesh with her electric heating system. She doesn't have any other heating source.
The Levine family, meanwhile, stayed with relatives in Hudson because their house has also become too cold to live in. "It went down to 40 yesterday. I could see my breath," Joel Levine said of a pit stop he made to his home Sunday.
Levine's main concern was his aging Lhasa Apso dog staying in a shelter. Employees there described the dog as "not comfortable," he said.
The situation had become depressing for Levine, but like Foushi and other neighbors, he held no animosity.
"We're surviving," said Michael Nemi, down the road from Levine and Foushi. He paused to listen to the two utility crews. "They'll get to us."
Nemi and his wife, Susan, have experienced a few problems during the four-day outage, including running out of firewood Sunday. But a "gracious" neighbor gave them several dozen logs to make it through the night, she said.Susan Nemi came home from Florida on Saturday and was met with the cold reality of the power outage. Despite joking that she is "grouchy" and should have stayed in the Sunshine State, Nemi and her husband took the outage in stride.
For one, they've enjoyed some cozy fireplace dinners, eating thawed refrigerator food cooked on an outdoor grill.
Michael Nemi every winter regrets that he hasn't bought a generator, but then his family manages every power outage, including this extended one. "We're optimistic," he said.
Fire Chief Michael Currier also remained optimistic.
At its worst early Friday, 90 percent of residents lacked electrical power. But emergency and public works crews worked throughout the weekend responding to calls and clearing roads and pathways for utility crews, Currier said.
As of 3 p.m. Monday, PSNH said 5,364 customers were still without electricity in town. The chief said the northwest part of town was the last section that needed restoration.
Amherst, Farmer, Mason and Peaslee roads were particularly hard hit with fallen trees, limbs and other debris, Currier said. "The crews are tired but working hard," he said.
Some roads still needed attention Monday afternoon. Baboosic Lake Road, particularly, was still an obstacle course with fallen branches and parts of trees obstructing travel.
Back on South Baboosic Lake Road, Fred Arbor held out hope that he, too, would rejoin civilization.
A generator kept the temperature somewhat reasonable, for Arbor, his wife, Gerri, daughter Nicole Kasynak and her two children. But they still needed blankets, he said.
"The little things are adding up," Arbor said of a lack of shower and use of his oven and other appliances. "The isolation is more the thing."
But hearing the oncoming utility crews made Arbor smile.