Souhegan senior's video company makes money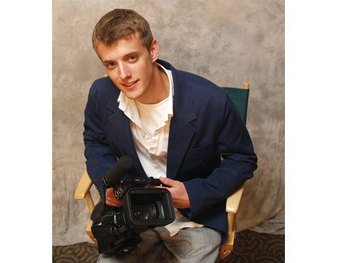 EDITOR'S NOTE: This is the second in a series of profiles of graduating seniors from area high schools.
AMHERST – Spencer Davis won't need a typical summer job flipping burgers or mowing lawns when he graduates from Souhegan High School because he's his own boss.
In his last summer before college, he hopes to drum up some work for his video production company.
He founded his Rubber Ducky Studios, a professional production company in 2005, during his freshman year.
Davis, 18, graduates with his classmates Friday at 5 p.m. at the school.
In the beginning, Davis invested profits back into the business and for about two years he would shoot some events for free just to boost his resume.
Now, the company is making money for him and his crew.
"We're going full stride," says Davis. "We'll shoot weddings, commercials, events and music videos."
If you go:
Rubber Ducky Studios, a state licensed LLC, has done work for The Telegraph, Dartmouth Hitchcock Manchester, The Red Cross, and Eastern Mountain Sports. The company also films weddings and other events for people.
Davis' passion for film began in the fifth grade with a short comedy film called "Bullies at AMS." It was recorded on VHS.
He's come a long way from that first video.
"Spencer is one of the most advanced video producers and editors we have at the school," said his teacher, John Ranta. "He's done a lot of work above and beyond what's required in class."
Davis said he made that film and others with help from his friends Pat Gaynor, Caleb Desmarias, Jordan Dennis, and his older brother Grant Davis.
The name Rubber Ducky Studios, not surprisingly, comes from when the boys were younger and making films down by a local pool.
"We wanted a production company name as we wanted to put a name to these films," wrote Davis in an e-mail. "Of course, the first thing we saw was a yellow rubber duck on top of the pool and the rest was history."
One day he hopes to make movies, but this fall he's off to UCLA to take two years of business classes. After that he'll attempt to get into UCLA's film school, which only takes a select number of students per year.
In addition to making films, Davis is also a DJ with his friend Shane Walsh. Davis also plays piano.
"We're the music guys around here; we're also obviously the film guys, too," said Davis while sitting in the high school's TV studio.
As a movie buff, Davis enjoys Ridley Scott movies such as "The Dark Knight," "American Gangster" and "Black Hawk Down."
"When I watch films, I like to look at the cinematography," said Davis.
His father, Ken, a salesman, is impressed with the way his son can adapt to the needs of his customers. When Dartmouth Hitchcock called to ask for a jingle, Spencer didn't say no, said Ken.
Instead, Spencer got his friends together and wrote and produced the jingle.
"He doesn't just do one thing. He does it all," said Ken Davis, adding he's proud of all Spencer's friends who have done much to help his son.
Another interesting job they had was a dance video for a man who was on a television show called "MTV Making the Band." Rubber Ducky partnered on that project with another company, Second Wind Productions of Manchester.
The elder Davis is happy that his son has found a way to work for himself, adding it has been more fun and profitable for him to do that.
Rubber Ducky Studios began when Davis filled out a form asking for $1,000 grant from the United Way.
The paperwork came from an organization called "Youth Ventures" that helps young people get grants to start their own businesses. The money went into buying equipment.
Now that it's successful, Rubber Ducky Studios gives discounts to nonprofits.
Spencer also credits his parents, Ken and Janet, with helping to bankroll their interest in film. His parents bought cameras for the boys before the business took off.
Now the company has its own state-of-the-art equipment bought with revenue from the business.
Outside of work, the California native enjoys surfing and lifeguarding at Jasper Valley.
For more information on Rubber Ducky Studios, visit www.rdsevolution.com.