Son charged in attacking former chief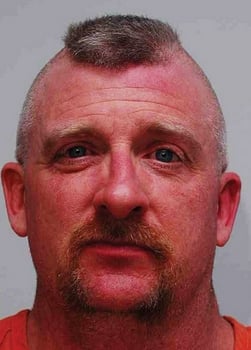 NASHUA – Former Nashua Police Chief Clifton Largy was savagely attacked by one of his sons Wednesday morning, and then handcuffed and duct-taped to a barber's chair for nearly 12 hours until he was able to call for help, police reported.
Eric Largy, 42, of 98 Pine Hill Road, told officers who arrested him that his father "got what he deserved," according to police reports filed Thursday in Nashua District Court.
Clifton Largy was taken to Southern New Hampshire Medical Center, and later transferred to Massachusetts General Hospital, to be treated for injuries including a broken jaw and broken eye sockets, police reported.
Eric Largy was held overnight on felony domestic violence charges, and remained jailed after his arraignment Thursday morning in Nashua District Court, where a judge set his bail at $100,000 cash. A probable cause hearing is scheduled May 6.
Clifton Largy served as the city's police chief from 1995 through most of 2000, when he retired at the age of 55, after 32 years with the department. During his five years as chief, Largy moved the department toward the community policing approach that it has stressed ever since.
Clifton Largy now lives in Hampton, but he and his wife own the house where his son was living at 98 Pine Hill Road, city tax records show.
Eric Largy has no prior criminal record locally, Nashua District Court records show.
Clifton Largy had planned to meet his brother, Daniel Largy, at their business, Collins Brothers Chowder, on Temple Street at about 9 a.m. Wednesday, family members told police. Eric Largy lured his father to the house on Pine Hill Road at about 8 a.m., however, telling his father that someone had left a golf club for him, Clifton Largy later told police.
As he walked into the living room, Clifton Largy said, he was suddenly struck in the back of his head, from behind, and his son then pushed him into a barbershop type chair, handcuffed him, and then duct-taped his arms and legs, securing him to the chair. Eric Largy then put a blanket over his father's head, and beat him repeatedly with some sort of blunt object, Clifton Largy told police. Police later found a sap (a flexible club made of leather, with lead inside) and sap gloves in the house and took them as evidence, police reported.
Largy's brother and his other son, Joseph, began to worry about him after he didn't show up at Collins Chowder, and Daniel Largy told police later he called Eric's house. Eric Largy at first said that he had no idea where his father might be, and then later said that someone had phoned the house and said his father had been in a car crash. Eric Largy claimed the message was garbled, and lacked detail, Daniel Largy said.
Family members kept calling around, but that evening Clifton Largy was able to get free and call his brother at about 7:45 p.m., police reported. Daniel Largy called police and his nephew Joseph.
Eric Largy greeted officer Nicole Brooks at his door by asking, "What the (expletive) do you want?" police reported.
Eric Largy went on to blurt out various statements, claiming that his father had tormented him all his life, and "the (expletive) bastard got what he deserved," police reported.
Several other officers went into the home and found Clifton Largy still bound to the chair by his wrists, police reported.
Eric Largy later agreed to speak with Detective Craig Allard at the police station, and gave a recorded statement, saying that his father had initiated the confrontation, poking him in the chest and hitting him because a truck in the driveway had a flat tire.
Eric Largy said he and his father fought, moving around the house, until he was able to knock his father down, drag him to the chair and restrain him there. Eric Largy told Allard he restrained his father because he was afraid of him, and he denied hitting his father again after strapping him to the chair, police reported.
Describing the incident Thursday morning, Detective Lt. George McCarthy said that Eric Largy and the victim, whom he did not identify, got into an argument that escalated into a fistfight.
Eric Largy is charged with kidnapping, a felony punishable by up to 7-1/2 to 15 years in prison, and second-degree assault, a lesser felony. The assault charge alleges that he repeatedly punched his father, breaking his jaw and both eye sockets. The kidnapping charge alleges that he hit his father after strapping him to the chair and restrained him all day.
Studies have found that law enforcement families suffer more domestic violence than the general population. The Telegraph reported on the issue several years ago, after a Nashua officer was arrested for assaulting his wife and then threatening to kill two fellow officers during a standoff in his home. The officer was fired and later pleaded guilty and was sentenced to four months in jail.
Two studies in the early 1990s found roughly 40 percent of police families reported domestic violence, compared with about 16 percent of the general population. Mutual aggression was the most common form of violence reported, but researchers found wives of male police officers were somewhat more likely than their husbands to initiate violence.
The Largy's case echoes another, high-profile tragedy in New Hampshire, involving state Supreme Court Chief Justice John Broderick, whose son served 3-1/2 years in prison after being convicted of beating his father about the head with a guitar in 2002, breaking nearly every bone in his face.
Broderick said his son, Christian, suffered from mental illness and substance abuse, and argued in favor of his parole.