Some suspects face multiple charges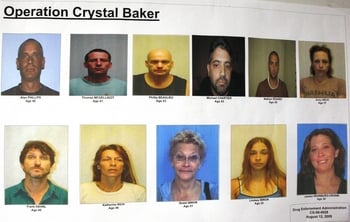 NASHUA – Eleven suspects have been indicted following an investigation into the manufacture of methamphetamine in New Hampshire and Massachusetts.
The following suspects have been charged with conspiracy to manufacture meth:
Thomas McElligott, 41, of Nashua.
Alan Phillips, 47, of Chelmsford, Mass.
Philip Beaulieu, 52, of Lowell, Mass.
Michael Chartier, 42, of Fitchburg, Mass.
Frank Hahnl, 44, of Nashua.
Nathan Rivard, 28, of Candia.
Jocelyn Rehnburg, 30, of Manchester.
Bobbi Miron, 50, of Nashua.
Lindsay Miron, 24, of Nashua.
Avey Wick, 37, of Nashua.
Katherine Rich, 46, of Nashua.
Suspect There's a Meth Lab near you?
McElligott was also charged with unlawful possession with the intent to manufacture methamphetamine, maintaining a drug-involved premises at his then-residence at 83 Gillis St., possession with intent to manufacture methamphetamine within 1,000 feet of Dr. Norman Crisp Elementary School and possession with intent to manufacture methamphetamine on premises in which a child was present.
Beaulieu, Hahnl, Rehnburg, Rivard and Wick also were charged under the federal Combat Methamphetamine Epidemic Act of 2005 with knowingly purchasing more than 9 grams of ephedrine base, pseudoephedrine base or phenylpropanolaime base within a 30-day period.
These chemicals are regulated because they can be used to produce meth.
If convicted, each suspect faces up to 20 years in prison and fines up to $1 million.