Some seniors weathering 2nd storm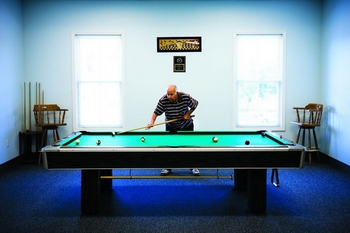 HUDSON – There are few people around town who still remember what it was like to make ends meet during the Great Depression.
Most of today's senior citizens were kids, if they were born at all.
But the children of the 1930s, raised with Depression-era values, have plenty to say about the seconond-worst financial crisis in United States history, and its impact on their pocketbooks.
"I swim Monday, Wednesday and Friday with some elderly folks," James Stafford-Rogers, 68, chairman of the Hudson Senior Council on Aging, said.
"Of the 30 ladies and a couple gentleman, about half say they've lost money.' "
Stafford-Rogers was one of about 10 retirees interviewed about the economic downturn during lunchtime at the Hudson Community Center Thursday – a day that ended with yet another dramatic Wall Street tumble.
The subprime housing mess pummeling the stock market is having the same effect on pensions and other retirement funds, which are among the most common forms of savings in the United States.
By Tuesday, Congress' top budget analyst was already estimating retirement plans had lost $2 trillion in the past 15 months.
That means big losses in mutual funds, 401(k)s and other investments, on which some retirees depend for income.
"I'm just worried that some of our seniors are going to have to choose between food, medication and heating their homes," Stafford-Rogers said.
Recently retired Bob Haefner, a state representative who lives in Hudson, said the value of his investments has dropped significantly.
"My 401(k) has probably lost $100,000 in the last few months," said Haefner, who retired from Hewlett-Packard three years ago.
However, Haefner said he's not too worried yet because he knows the stock market will eventually bounce back.
Several seniors said they've lost some money, but not much, because only a small percentage of their savings was tied to the stock market.
Roland Levesque, 81, of Nashua, said his mutual funds are still performing well, according to his financial advisor.
"You hope that your financial adviser is good," Levesque said. "So far, so good."
Shirley Hall, 78, of Londonderry, decided years ago she wasn't going to gamble in the stock market with her retirement money.
She put all her money elsewhere during a period when the market was fluctuating up and down.
"It was iffy, iffy, iffy," Hall said.
"I figured it's better to take it out and not make as much money, but still have it."
Some seniors are more worried for their children, most of whom are nearing retirement. Those in their final working years are less likely to have pensions and more likely to be relying on 401(k)s that have seen big losses of late.
Experts say many people close to retirement will have to consider working longer to make up for the retirement savings lost in this crisis.
A new AARP study found that because of the economic downturn, one in five workers 45 and older has stopped putting money into a 401(k), IRA or other retirement savings account during the past year, and nearly one in four has increased the number of hours he works.
According to Rita Doyle, 81, of Hudson, even retirees living on fixed incomes have an advantage over younger generations in trying to make it through this financial crisis.
In the aftermath of the Depression, they were taught never to buy anything on credit, she said.
"My husband and I saved $20 a week for seven years to put a down payment on a house," Doyle said.