Some owners take a big risk in subdividing apartments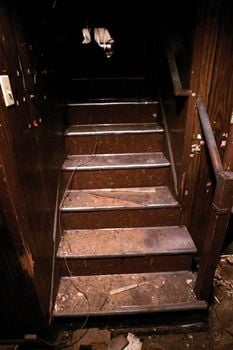 A two-unit building on Kinsley Street converted to an 11-unit building. A three-unit building on Auburn Street converted to a 16-unit building. A five-unit building on Amory Street converted to a 25-unit building.
All done without a single building permit or inspection.
It's the city's dirty little secret that really isn't well-kept.
Ask any of the people whose job takes them in and out of Nashua's multiunit properties, and they will tell you that illegal building and wiring in the city's apartment industry has been a problem for some time.
"I think you could safely say there are hundreds of illegal apartments throughout the city of Nashua," said Nelson Ortega, veteran city code inspector and the city's newest code department supervisor.
Whether a single apartment deck currently under construction or entire apartment units built 20 years ago, Ortega and other city inspectors say they are continually discovering unapproved and illegal handiwork.
"You will be in a certain place and you know right off the bat that it is illegal," Ortega said. "(We) get a hold of the landlord and say, 'Listen, you can't have this here.' "
Although illegal apartments are a zoning violation and therefore a criminal offense, building records from the last 30 years show the city has consistently been inconsistent in its enforcement.
One longtime city landlord, Kenneth Blanchard, of Hudson, actually used that argument in 2000 when he fought the city's complaint that his 11-unit apartment building at 32 Kinsley St. had nine illegal units.
Inspectors uncovered the unapproved units the year before after responding to a potentially deadly carbon monoxide threat. Among the illegal units uncovered was a filthy and unsafe illegal basement apartment that was deemed unfit for human occupancy.
The city inspectors investigated all of Blanchard's properties at that time, finding more illegal apartments, including 14 illegal units in what was supposed to be a two-unit building at 4-6 Auburn St. and three illegal units in what was supposed to be a three-unit building at 3 Bridge St.
The city issued a cease-and-desist order to Blanchard that ultimately led to superior court.
For More Information:
Not the first time
It wasn't the first time Blanchard had been told there was a problem with the Kinsley Street building.
Before 1999, several other city inspectors had separately "discovered" the units. In fact, Blanchard had been cited seven times throughout the 1980s for maintaining unapproved units in the same building.
"Unfortunately, there has never been an attempt to push the matter beyond these written notices, except in the case of certain building violations," wrote Stephen Bennett, the city's attorney, as the city attempted to prosecute Blanchard in March 2000.
Blanchard's attorney, Richard Mitchell, countered that because the city had failed to enforce the ordinance before, it was guilty of a legal principle know as "laches," meaning it had slept on its opportunities to prosecute Blanchard for the unapproved units and therefore forfeited its right to do so.
"Due to its failure, for more than a quarter of a century, to enforce the ordinances it now seeks to apply, the city is estopped from enforcing the ordinances it now seeks to enforce," Mitchell wrote.
In January 2000, after months of battling city officials, Blanchard wrote a complaint letter to newly elected Mayor Bernie Streeter.
After first congratulating Streeter on his election victory, Blanchard wrote that the code department had unfairly targeted him for prosecution. He also complained that the scheduled court dates had ruined his vacation plans for the year.
"They KNOW I go to Florida for the first three months of the year," Blanchard wrote.
In his letter, Blanchard stated that most of the buildings in question had the same number of units from the time he bought them and that he had paid taxes based on city assessments that included those units.
"I really try to look at this without saying, 'They are after me,' but it seems more than a reasonable ratio of inspectors at my buildings," Blanchard wrote. "With the exception of Bridge Street, the number of units in my buildings haven't changed in 20 years."
In response to Blanchard's letter, then code enforcement prosecutor Laura Games chronicled the illegal unit history at Blanchard's three buildings and explained why her department was pursuing the matter.
"Illegal apartments are a major concern for us," Games wrote. "They involve installation of electrical, plumbing and heating systems without permits; and no inspections are done by the city to make sure that these systems are installed in a safe manner."
The matter appeared to be settled out of court in October 2000 when Blanchard's attorneys submitted plans detailing a reduction in the number of units in all of the buildings.
However, when the structures were last assessed in 2006, only one building, 3 Bridge St., appeared to have a reduction in units.
The Auburn Street property is currently assessed as a 15-unit building and 32 Kinsley remains an 11-unit building, according to assessment records. No evidence that the extra units were ever approved through the zoning board of adjustment exists in the building file.
Reached at his Hudson home in May, Blanchard hesitated a bit when asked to discuss his experience. "I don't know how that would help me," Blanchard said, before stating, "All of mine (apartments) are legal."
Without getting into specifics, Blanchard said he cooperated with the city to bring his buildings up to code, spending thousands of dollars in the process.
"Then they were going after me for the building that I had already spent a lot of money fixing up," he said.
"The city has a history of doing this and then not following up on it. I went to the mayor and he said 'Don't worry about it.' "
Besides intervention from Streeter, Blanchard said his case was helped by the fact that housing in the city was scarce at the time.
"There weren't enough units in the city and they were going after these illegal apartments," he said. "People stood up and were clamoring about it because there weren't enough units.
While Streeter could not comment on any specific cases, he did admit to intervening in code department business during his time as mayor.
In instances with illegal apartments or other serious issues in large apartment buildings, Streeter said his office did get involved in order to keep people off the street.
"There were violations," Streeter said.
"But it would mean that 12 families would be forced out . . . you don't want to condemn the building."
Trying to do the right thing
Chris Eckler is another area property owner who has tackled illegal units in his buildings. But unlike Blanchard, Eckler said he was aware of illegal units in some of his buildings prior to buying the properties.
He said he addressed the issues with city officials before going through with the sales.
Eckler said city officials agreed to work with him at that time because he had gone to them first and said he was willing to go through the proper channels to fix any problems.
In the end, Eckler said he spent tens of thousands of dollars bringing illegal units up to code in order to get the units approved.
Although he refused to get specific about how many or which of his properties had ever had illegal units, city code records revealed that in 2004, code officials were investigating the legality of units in at least four of his buildings on Amory Street.
In a Feb. 12, 2004, letter to Eckler, Games, the former code enforcement division manager, noted several discrepancies between the number of units approved in three of his buildings on Amory Street versus the number that existed.
Assessing records showed that extra units in both 5 and 7 Amory St. were in existence as far back as 1994 and that Eckler had bought the properties in 2002.
In September 2005, Eckler asked the zoning board of adjustment for a special exception to maintain the extra units at 5 and 7 Amory St., and was granted variances for both two months later.
Eckler's 16-unit building at 14-20 Amory St. is still in violation for maintaining of extra units, however.
"That is one of the only ones he has left to do," said Ortega, who worked with deputy zoning manager Carter Falk to research the property's history.
The building was listed as a 24-unit building as far back as 1976, Ortega said, and was originally supposed to be just five units.
City assessment records show Eckler bought the property in 1996 and that it was listed as a 16-unit building dating back to 1994.
Ortega surmised the building was one that probably should have been added to a list of addresses whose occupancy certificates were "grandfathered." The list, signed by then building and zoning administrator Alden Fox in 1979, certifies the official number of units allowed at 75 city addresses, mostly in the Tree Streets and French Hill neighborhoods.
For Eckler, or any property owner looking to legalize units, the process is only as problematic as the units in question, according to Sean Duffy, chairman of the zoning board of adjustment. "Every application always stands on its merits," he said.