Some irked by Christmas lights as blackouts linger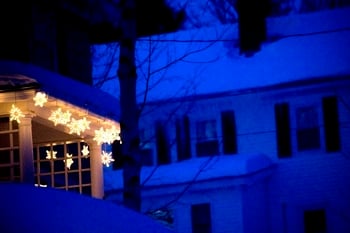 Debbie Holman was without power for six days. During the blackout, Holman, of Merrimack, frequently visited friends in Manchester who have power.
On her car rides home each night, Holman was encouraged to see houses dressed and lit for the season.
"It was a great joy for me to drive on roads and see all of the lights up and the trees in people's windows," she said. "I thought that it was a wonderful show of what the season was all about."While Holman supports those who are using recently restored electricity to deck their halls, Christmas lights have a sparked a debate among southern New Hampshire residents.
Each day since the ice storm, The Telegraph's online edition, nashuatelegraph.com, has posted a news blog asking readers to comment on their power situation. Now on day eight of the blackout, some residents feel that those displaying Christmas lights are disrespectful.
One reader with the username "Upset in Hudson" said, "It's pretty sad to see all the Christmas lights on in Hudson when there are still so many people without power. Have some compassion for your fellow neighbor."
"Heel182" saw a house in Londonderry powering its lights through a generator, calling it "a slap in the face to their neighbors with no power."
Holman empathizes with those powerless homes across the region. However, she contends that seeing Christmas lights is a good sign.
"These people are getting to go back to normal life," Holman said. "I don't see it as all of a sudden just because you have lights, you're supposed to turn off your Christmas lights."
"Scott" came to Holman's defense.
"The more Christmas lights that are shining, the better," "Scott" said. "It's a symbol of hope, which is needed now, especially given the current circumstances. I enjoy seeing the lights, whether they are mine or my neighbors."
Becky Sullivan, of Hollis, concurred, adding, "I feel that my husband and I work hard, and we wanted to have some kind of normal environment in the spirit of Christmas."
The Telegraph contacted those who commented about Christmas lights online for interviews. Sullivan was the only person to accept the request.
While most of the complaints criticize homeowners for using their power frivolously, it's difficult to determine just how much energy they're actually using.
Shellie Gardner is the co-owner of Christmas Light Source, a Texas-based company that specializes in outside holiday decorations, and she made her opinion on the Christmas lights controversy clear.
"Oh, bah humbug!" she said in response to those complaining about the Christmas lights.
Gardner, whose Web site includes an energy cost calculator, said costs vary based on the number and type of lights used.
"It's hard to know, because every display has a different number of bulbs and different bulbs," she said. "But Christmas lights don't use up as much as people think they do. It's not like it's hundreds and hundreds of dollars of consumption."
Incandescent lights, the traditional Christmas decoration, use up more energy than the newer, more efficient LED lights, Gardner said. "Incandescent get hot when you use them," Gardner said, "and the energy is used more for heat than it is for light, so it just wastes electricity."
In fact, incandescent light bulbs use 7 watts per bulb, whereas LED lights use only 2.4 watts per set.
Still, Holman doesn't think anyone should be punished for taking advantage of his or her electricity.
"I don't think everyone has to suffer together," she said. "We shouldn't be upset about somebody's loss or somebody's gain."