Some abandoned homes festering in foreclosure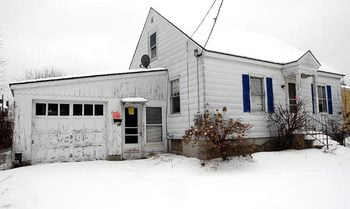 NASHUA – It's one thing when a building is foreclosed. The issue becomes more complicated when a foreclosed building, or an apartment within a foreclosed building, is uninhabitable.
City code enforcement officers faced that when a building on Pine Street went into foreclosure. One of the apartments inside had to be condemned.
Nelson Ortega, the city's code enforcement department manager, doesn't blame the landlord.
"He's a nice guy. We're not out to mess with him or anything," Ortega said of the landlord.The tenant in question dropped off the rent check each month, and the landlord had no idea of the condition inside, Ortega said.
The stench inside the apartment was so bad that code inspectors had to wear breathing masks. Trash was strewn everywhere, a sign of the type of severe hoarding associated with mental illness.
"This is just how we found it," said code officer Kyle Metcalf.
"When we find this, Heidi gets involved," Ortega said, referring to Heidi Peek, the city's health officer.
The tenant had abandoned the apartment, and the mess inside. Because that occurred during winter, residents who lived downstairs kept their windows shut and didn't detect the odor from above.
A foreclosed building lands in the ownership of a bank. Banks distant from the property are required by law to hire a property manager or representative who lives within 25 miles, Ortega said.
When the foreclosed property has code violations, the city has to make the bank realize that no one can occupy the building until the problems are corrected, Ortega said.
"When an apartment becomes vacant, it goes away for us. We don't deal with vacant units. But when it becomes occupied, code becomes involved again," Ortega said.
Added Metcalf: "It can't be occupied until code says it can."
The same issues apply to single-family homes.
Take for example a house at 30 Nagle St., which for months has sat foreclosed and unoccupied. As many homeowners have done during the economic crisis, the owner abandoned the house, walked away from the mortgage and moved to Tennessee, Ortega said.
The mortgage now is being held in Arizona, he said.
The code issue stood out like a sore thumb, Ortega said.
"We're not structural engineers, but this was obvious," Ortega said. The foundation wall had collapsed. Ortega guesses that it will cost less to raze the house than to repair it.
As of this week, code officers were handling 28 cases of foreclosed properties with code violations. They included apartments, condominiums and single-family homes. That's up from just 15 in late winter.
Ortega expected the number to increase.
"We're going to start hearing about more foreclosed properties," he said. "The snow will start to melt, the grass will start to grow, and the neighbors will complain and wonder what's going on. We'll see some more," he said.