Some 108 Hollis trees are marked for removal after ice storm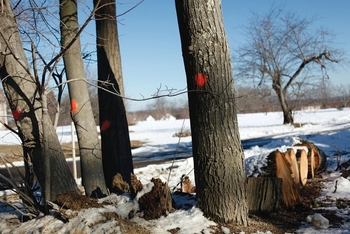 HOLLIS – Here's something else to look for on the morning commute: fluorescent orange dots painted on trees along the town's 80 miles of roads.
The blazes, painted on 108 hickory, maple, oak, pine and other species, signify that the trees, all damaged by the December ice storm, present a hazard and should be cut down.
The Federal Emergency Management Agency will reimburse the town for 75 percent of the estimated $200,000 cost but only to remove trees with trunks that are 6 inches in diameter or larger, said Jeff Babel, the town's Public Works director.
Babel said selectmen approved the project Monday night on a 3-1 vote and he expects a FEMA representative to do the same shortly.
Selectman Peter Band dissented, saying the town should hold a public hearing before cutting down any of the trees.
Babel, however, maintained that the marked trees are not likely to survive. If the town waits, he said, it would lose the federal assistance and would have to pay the full amount to remove them later.
He said all of the trees, roughly 1½ trees for every mile of road, are on town-owned property.
Babel's list, which is posted at Town Hall, includes trees on Federal Hill, Hayden, North Pepperell, Rocky Pond, Ridge, Richardson, Pine Hill, Wheeler and Van Dyke roads.
Babel said he welcomes inquiries from residents with questions or concerns about specific trees.
"I think if people look at the trees, they'll understand," Babel said. "The trees are in pretty rough shape."
He said in addition to presenting a danger to passers-by, a damaged tree invites insects and rot, compromising the tree's longevity.
Babel said he has already received bids for the work from arborists, loggers and construction companies.
The work involves both technical cutting, requiring special equipment and bucket trucks, and less complicated cutting.
Babel said it could take about two weeks to bid out the work after the town receives FEMA approval, and another three weeks to complete the job.
Contractors will also be hired to remove piles of brush now buried under snow banks, Babel said.
"It's a mess out there, but it's not as bad as it could have been," Babel observed, recalling the aftermath of a devastating ice storm in 1997.
"I was here in 1997, and we cut down hundreds of trees," he said. "It may look bad, but there are still a lot of trees out there."
Babel said oak trees fared better than hickories, maples and pines during the December ice storm.
The tops of pines snapped, while maple branches were stripped to the ground and hickory branches were left dangling.
But Babel said the number of damaged trees is relatively small.
"A lot of trees I opted not to cut, and they'll do all right," Babel said.
Hattie Bernstein can be reached at 673-3100, ext. 24, or hbernstein@cabinet.com.