Social worker advises parents to talk to kids about economic hardships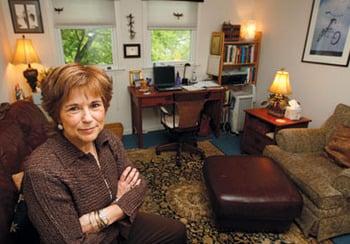 NASHUA – A man loses his job and suddenly is forced to play "Mr. Mom" at home, a role he doesn't relish.
Another wage-earner is forced to take a 20 percent pay cut, which means he has to break the news to his kids that plans for summer must be canceled.
Or, parents try to shield their children by not talking about the economic difficulties they face, but the kids pick up on the stress without knowing why.
More and more, therapists are seeing how the big picture of tough economic times is playing out in living rooms and around the kitchen table.
"It comes up all the time. In the back of my mind, as a therapist and as a parent coach, I'm always thinking, 'I wonder what the children are feeling,' " said Connie Bessette, a former school social worker who now has a private practice in the city.
Parenting advice
Bessette pointed to the above cases as hypothetical examples. She explained she can't discuss cases specifically related to her clients, even if she doesn't use their names. When talking to parents about economic stress at home, Bessette will ask, "How are the children doing?"
"What I typically hear is, 'They're fine; they're fine,' " she said.
But with a decade of experience in schools, Bessette knows not to take that at face value.
"I kind of have a sense about what the children might be feeling and thinking," she said.
What she often finds is that kids "have feelings of being scared, or worried, yet not knowing why," Bessette said.
"Even little babies are going to feel stress. If mom and dad are experiencing some major life change and there is stress going on in the family and it's affecting mom and dad, it's going to affect the children," she said.
In the hypothetical case of dad being forced to play "Mr. Mom," the danger is stress caused by the man's wounded ego.
"He's struggling with it so much that he can't have a discussion with his wife because of the shame it brings up for him," Bessette said.
Even though, if he thinks about it logically, he knows it's not his fault, she said. Maybe it was a case of extensive layoffs at his plant, and he had low seniority, she said.
But what can happen is that parents go to "opposite corners," and the kids scatter – the 12-year-old is out of the house more because it's no fun to be at home, the 5-year-old watches more TV, and the 8-year-old starts acting out by getting into fights with his siblings or peers.
"Everybody's on a different page, everybody's upset, and nobody knows why," Bessette said.
Also, a family unable to afford summer camp for the kids can be a big deal, she said.
"Now, in the whole scheme of things, people might say, 'So what?' But for these children, this was a life change for them. Every year since they've been tiny, they've been going to summer camp.
"Without a discussion, they could have lots of questions about, 'What did I do? Why is this happening?'"
That's why communication is so important.
Faced with economic stress, parents should acknowledge their emotions, maybe talk it out with each other or with friends, and then speak to the children about it, Bessette said.
Hard Times
It's important for a family to tell the kids, " 'there's a change in our family, and things are different, and as a result, you're not going to go to summer camp.' Being able to hear what their thoughts are about, that is real important."
If parents are able to communicate and have a good support system, the effects of economic stress on the family can be minimal, Bessette said.
"If they don't have a good support system, if they're isolated and tend to be inward, then I think the effects can be far more dramatic," she said.
Parents might withdraw, and anyone with a history of substance abuse might fall back on it or revert to other past coping strategies. Even turning to exercise, like bicycling, can have a downside, Bessette said.
"That's fabulous, but the downside is if they're doing hours and hours of it, they're obviously not dealing with the issue," she said.
After parents face a problem themselves, they can talk to the children, Bessette said. Kids will often volunteer to do their part to help, suggesting they can forgo or take a reduction in their allowances, for example, she said.
"I think the upside to this is that it's a golden opportunity for change," Bessette said.
This presents an ideal time to call a family meeting, sit down with the kids and say, "OK, we can't go to camp, but let's talk about what we can do that would be better."
"I see this as a golden opportunity to bring families together," Bessette said.
A family can decide to go on a hike, visit a local park, or cook a family meal together.
"The list can be endless," Bessette said.
Most families have been through some sort of family crisis, Bessette said.
"We look at this globally, and we have concerns globally from an economic point of view, but from a family point of view, I look through a different lens. What I see is a family who has probably been through hardship before, and maybe hardship equal to this," she said.
"So, if you can get your head out of the bigger picture and look at what's happening in the family, you may realize that either in your immediate family or your family of origin, you have dealt with a crisis that is tantamount to this, and you survived, and you thrived."
On June 17, Bessette will present a workshop on parenting during times of economic stress. Topics will include what to tell children, how much to say and how to say it; how to deal with stress as parents; how to be proactive rather than reactive; and how to turn tough times into an opportunity to strengthen families. The workshop will be from 6:30-8 p.m. at the Exit 6 Office Building, Suite 1532. Cost is $25 per person and space is limited. To register, call Bessette at 883-9333 or e-mail connie.bessette@settingparentsfree.com.