Social Security building closes after roof leaks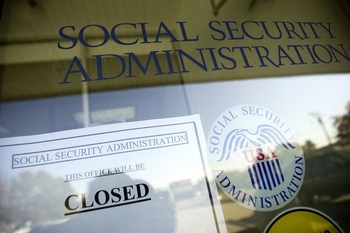 NASHUA – The first sign of trouble came at about 2:30 a.m. Sunday when a security company's motion detectors picked up movement inside the Social Security Administration office.
False alarms have happened there in the past, when detectors picked up a folding chair falling off a desk or something of that nature, said Bob Redding, the district manager.
So Redding wasn't too concerned when he received that early morning call from the security company. Police checked out the 175 Amherst St. building, and as there was no sign of a break-in, Redding figured it was just another false alarm.
Then at about 8 a.m. a staff member stopped in to pick up eyeglasses he had forgotten and found a massive, wet mess inside.
A "catastrophic drain failure" caused the Social Security Administration office here to get swamped, prompting officials to close the office all week.
Lee Harrington, owner of Imtek Reprographics, which occupies the first floor of the split-level building, had planned a nice trip on a sunny Sunday to visit friends in Kennebunkport, Maine.
He stopped to gas-up at a nearby service station and then decided to stop in to his business to check on something.
"Yikes!" Harrington said, relating his reaction to what he found inside.
A sign was posted Monday at the 175 Amherst St. office announcing it would be closed, Redding said.
The owner of a small business, Harrington didn't have that luxury.
"I can't afford to close. We're running," Harrington said.
However, he said water damage "trashed" a computer server. Other hardware was being tested and, if needed, repaired throughout Monday. Harrington said he wasn't sure how much equipment he lost.
About 120 people visit the Social Security office each day. Those clients have a number of options available to them while the office remains closed, Redding said.
First, they can call 1-800-772-1213 if they have questions.
Or, they could visit the agency's Web site at www.socialsecurity.gov. A number of services can be done online, such as filing for retirement or disability benefits.
Lastly, if people need to visit an office in person, they could go either to the Manchester office at 2 Wall St. or the Lowell, Mass. office at 151 Warren St.
Work was being done on the building's roof last week, Redding said. A drain failed during the heavy rains on Saturday night, and by Sunday morning "a hell of a lot of water permeated the whole office space," Redding said.
The drain had apparently been a problem before in the building, which until about eight years ago housed a hardware store, Redding said.
A cleanup and restoration company advised the officials to close the office for a week so it could make repairs, Redding said.
The roofing company responded immediately, Redding said, and called in Servepro, the cleanup company, he said.
Work crews stayed until late Sunday evening and returned Monday, vacuuming out the interior and working on the roof.
Redding said it was uncertain whether the carpet would have to be replaced.
No computers were damaged at the Social Security office, and there was no loss of anyone's personal records, he said.
Fifteen people work at the office, which regularly sees 600 people a week while handling about 500 phone calls, Redding said.