So, how far will a $20 lunch budget go?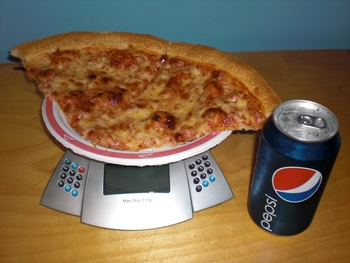 Editor's note: Eating cheaply at work is best achieved by bringing your own lunch. But sometimes even the best Tupperware Troopers leave a home-cooked lunch behind in the fridge. As part of The Telegraph's economy series, we wanted to see what kind of bargains and deals could be found.
We gave each of our interns $20 and told them to eat out for five days. They were asked to go to a different place each day, bring their food back to work and weigh it. Here's what they found. Shawn Cyr got the most food for his cash, Maryalice Gill ate the healthiest, and Dana Smith overspent by 4 cents.
With seemingly more money then Trump, and more college experience than Van Wilder, I still failed my own litmus test.
Being a freshly graduated college student, having $20 to buy lunch for five days is like having the late Ed McMahon showing up at my doorstep with a Publishers Clearing House Prize Patrol check.
So I had a plan: Eat like a king for a few days and then like a college student on the last. Just leave myself one dollar for the last day.
MONDAY
The first day of the lunch week was quite exciting. Living in Manchester but interning in Hudson, I looked in the phone book and found the number for Hudson House of Pizza. They told me they had a lunch special where you get two slices of pizza and a drink for $3.25 before tax. Count me in!
I show up, and they proceed to tell me that they had no idea what I was talking about. I must have ordered from a different place. I'm thinking this $3.25 lunch is a scam.
Anyway, I decide since I was there I would buy a couple of slices of pizza, hoping that in some strange way I could stay on my budget.
In what seemed like a perfect coincidence, they offered $1.50 a slice after tax, and I took two for $3. Then I stopped outside Haffner's and bought a 12-oz Pepsi for 50 cents.
When I got back to the office, I retraced my steps. I realized I had called the Nashua HOP instead of the Hudson HOP, which explained why the girl at the counter gave me the same look that my black lab does when I try to talk to her in Spanish.
Ay caramba!
But in my gaffe, I actually ended up with a little bit of a bargain. The $3.50 I spend on pizza and a drink was 4 cents less than what it would have cost at the Nashua House of Pizza, after tax.
The pizza slices were a good size; not otherworldly in taste, but a decent lunch. And after two slices, I was pretty full.
TUESDAY
You pretty much know what you are going to get when you dive into the land of high-speed hamburgers. Tuesday, I took the plunge.
I got a two-cheeseburger value meal from Burger King, reaping the extra monetary benefits.
Out of all the other fast food places, BK is the king of burgers for a reason. Their burgers actually taste like a burger!
Of course after enjoying this fried feast, reality begins to set in. You never feel very good about yourself after putting down three quarters of a pound of hamburgers and fries.
WEDNESDAY
Today I went to Market Basket supermarket and bought one of the hot subs they sell in the store.
Although it wasn't quite a hot sandwich, the room-temperature meatball sub was decent. I was relatively impressed with the taste, but the appearance made it lose some value.
I almost reconsidered my purchase when I opened it, as the tomato sauce was shellacked on all sides of the bun. The sauce had somehow escaped and spread like wildfire, leaving a crimson-colored soggy bun in its wake.
Luckily, I still a good amount of money for a respectable lunch tomorrow before my self-promoted one-dollar budget meal Friday.
THURSDAY
I needed something really good to eat. It was my last day before my Friday budget meal, so I had to be nice and full.
I went to Adamo's Pizza in Hudson and got the "God Father," some cross breed of an Italian sub and fresh pepperoni, in a wrap instead of a sub roll. From the name alone, I knew I was in for a good lunch.
The wrap was notably fresh and delicious – by far the best thing that I ate the entire week. I genuinely enjoyed eating the wrap, and would recommend it to anyone looking for something more mouth-watering than fast food.
I was full before I even finished eating and I was really glad that I made the decision to overspend – at the time. I left myself $1.13 for the last day's lunch, just enough to put my lunch plan into effect.
FRIDAY
Despite all the collegiate training I would ever need, I couldn't pass the test. My goal of the $1 lunchtime meal produced a catastrophic failure.
Don't get me wrong, there was plenty of stuff for me at the Stop and Shop in Hudson that would have been edible (such as those ever-fulfilling 40-cent freezer burritos), and kept me under my allotted $1.13.
But my plan crumbled under the strict rules of the competition: We were not allowed to cook any of the food we purchased.
I could have also made the trip to the always reliable McDonald's and gotten a double cheeseburger and a cup of water. But in the interest of my well-being, I figured I would shy away from fast food for the second time in a week.
So I began hunting. And hunting.
I ended up with the smallest fresh banana I could find, which definitely wasn't ripe enough to be eaten; two packs of free oyster crackers; and a bowl of Kellogg's Corn Puffs for $1.17 — 4 cents more than my lunch budget.
The University of New Hampshire should revoke my degree.
I must say, I still ate pretty well for the week.
I got pizza, burgers, and subs, and I was only over by 4 measly cents. That's the same 4 cents that I saved by going to Hudson House of Pizza instead of its Nashua counterpart!
I would like to point out that none of my other peers took this experiment quite as seriously as me. None of them took the time to take their items out of the container and level off the scale before weighing the mass of the food. I also made the concerted effort to have something different and try to get a drink. My food didn't vary that much, but I would say I had a pretty good smorgasbord.
I also learned one of two things. Either I need to go back to college and relearn the phenomenon of eating a cost-effective lunch or continue checking under the break room vending machines for lost nickels.
SMith's lunches at a glance
MONDAY
What – Two slices of cheese pizza and a can of Pepsi.
Weight – 9.5 oz.
From – Hudson House of Pizza, Hudson, NH
How much – $3.50
TUESDAY
What – Two-cheeseburger meal, fries and a drink.
Weight – 12.3 oz.
From – Burger King, Hudson
How much – $5.07
WEDNESDAY
What – Meatball Sub and Arizona Ice Tea.
Weight – 8.5 oz.
From – Market Basket, Hudson
How much – $4.90
THURSDAY
What – "God Father" Sub
Weight – 11 oz.
From – Adamos Pizza, Hudson, NH
How much – $5.40
FRIDAY
What – A banana, corn pops, and free oyster crackers
Weight – 7.2 oz.
From – Stop and Shop, Hudson, NH
How much – $1.17
TOTAL – $20.04, or $6.61 per pound