Snowstorms just keep on coming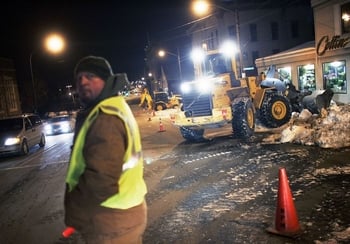 NASHUA – The calm before the storm means preparation, not rest, for the city's highway department.
On Tuesday, city crews were remounting plows onto trucks and making sure vehicles were prepped for the coming battle in what has again turned out to be a long winter of battles.
"We're ready to go at 2 or 3 in the morning, or whenever we're needed," said Scott Pollock, the city's highway department supervisor.
Snow was predicted to start at or before dawn today, with 5 to 8 inches expected, possibly followed by slush or freezing rain, as temperatures climbed to near in the afternoon.
As soon as snow begins to collect on the roads, the plows will be out putting down salt, he said.
The good news for city crews is that the past week was dry, even if cold.
"We got lucky. We had a little bit of a quiet period over the last week to nine days," Pollock said.
During that respite, city crews removed snow from municipal lots. On several nights, crews pushed snow from sidewalks into Main Street, where it was scooped up and carted off.
City police are preparing too, by reminding drivers to thoroughly clear ice and snow off their vehicles before hitting the road.
An obstructed view can earn a driver a $75 ticket. If the snow or ice buildup is bad enough and endangers others, drivers can be charged with negligent driving and fined $250-$500 for a first offense and $500 to $1,000 for future offenses, according to Capt. Scott Howe.
Nashua officials have announced the city will be under a snow emergency starting at 5 p.m. today until 6 a.m. Thursday, meaning that parking is prohibited on all city streets and in municipal lots during that period.
However, vehicle owners can park in the Elm Street and High Street garages, free of charge, while the ban is in effect.
City officials warn that any vehicles left on the street or in lots will be towed, with the owners facing a $200 fine to retrieve them.
Likewise, police and city officials are also asking motorists to curtail their driving as much as possible on Wednesday, during what's predicted to be the height of the storm.
Remember how in memory the winters of childhood always seemed colder, snowier and harsher?
"Right now, you can say, 'This is like when I was a kid,'" said Doug Webster of Hudson, senior meteorologist with Meteorlogix in Woburn, Mass.
The past two winters have fallen into a pattern of storms hitting the region every five to seven days, Webster said.
"I do not see significant changes in the overall pattern we've had," Webster said.
If that's the bad news for the rest of winter, the good news is that Webster doesn't see us having another "severe cold snap" like the one that hit last week.
Weather patterns are cyclical, Webster said. Some cycles last for decades, though not all years within a snowy cycle are bad, he noted.
The Pacific Decadal Oscillation – which has to do with currents in the Pacific Ocean – affects our weather. The current "negative" PDO pattern causes harsh winters in the Northeast, Webster said. There is one difference between this year and last, Webster said.
While there hasn't been a January thaw this year, there actually were a couple last winter, he said.
For New Hampshire, a January thaw usually means a warm period with rain that melts down snow banks without completely melting them away, Webster said.
By the way, another storm is developing for Saturday – though it apparently will stay far enough out to sea and not produce any snow for this area, he said.
"If it does (track closer to the coast), and it snows here Saturday or Saturday night, that will floor me," Webster said.