Smaller pumpkin crop due to fungus from rains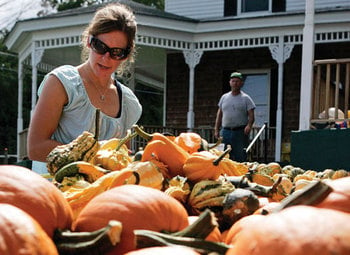 Foul weather nearly smashed this year's pumpkin crop, but as Halloween and Thanksgiving approach, there should be plenty of gourds to go round.
Five weeks of rain has caused the emergence of two types of fungus, according to George Hamilton, Hillsborough County Cooperative Extension agent. The pumpkin crop will be smaller this year, because of that, and some of them may have a few skin blemishes.
"The farmers couldn't get onto the fields to put on the protective spray," Hamilton said. "Once it has set, we have no tools to fight it."
One type of fungus is Plectosporium, Hamilton said. The other is generally called "fruit rot." The fungus affects many vine vegetables, he said, including both summer and winter squash.
Since one type is in the soil, wet conditions compound the issue, Hamilton said.
David Melton at Fitch Farm in Milford noted that fact, as well. He lost about half his crop, he said, but those he had planted in a sandy, gravelly soil with good drainage "did just fine. The ones I did pick were really nice."
His lower fields are clay and those vines rotted.
"You try to spread things out," Melton said. "That's how it goes in farming, you try to bet on the weather and you can't do that."
He added of the current pumpkins, "It's an all-right crop."
Several large bins of pumpkins of all sizes can be found at his farm stand.
Chip Hardy at Brookdale Farms in Hollis said between 50 percent and 60 percent of their pumpkins had been affected.
"It's had a major impact across the state," Hardy said. "Our crop will be small."
"It all depends on where you are," Hamilton said. "Steve Seigers at Yankee Farmer in Greenfield has a good field of pumpkins. He has upland, well-drained."
Another problem has been hail, Hamilton said, with an unusually high number of hailstorms this summer.
"I've never seen so many," he said. "Hail can damage the plant, making it easier for the disease to invade."
"Yes, farmers have been affected," Hamilton said, "but there are still a lot of pumpkins, and we need to support the local farmers in this kind of year. The pumpkins might not be perfect (because of hail damage) but they are fine for decorations and jack-o'-lanterns."
While wet weather was bad for pumpkins, it was fine for other crops.
"It was great for silage corn," Hamilton said.
"I have a good crop of potatoes," Melton said. "They did very well."