Small step forward for hyropower dam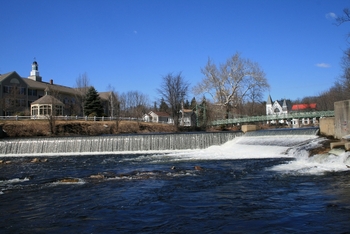 MILFORD – The first step has been taken in a long process that could create the region's first new hydropower dam in decades – although that result remains far from certain.
Northeast Hydropower, owned by Norm Herbert, of Amherst, has applied for a preliminary application from the Federal Energy Regulatory Commission to turn the small McLane Dam in downtown Milford into an electricity-producing site.
If approved after a 60-day period for public comment, the application would give Northeast Hydropower three years to develop more detailed plans, which would have to go through a much more rigorous approval process.
"The preliminary application is for when they've just started thinking about it. It's a permit to study the feasibility," said John Ramer, the FERC officer overseeing the application.
The federal commission licenses all commercial hydropower.
Herbert received a hydropower license for this dam two decades ago, with a plan to use most of the electricity to power Milford's wastewater treatment plant, but that project foundered after Public Service of New Hampshire declared bankruptcy in 1988.
Herbert said Friday that the earlier license took about 2-1/2 years to obtain.
"I think it should be a little easier this time," Herbert said.
The dam is owned by the town of Milford, which is contracting with an engineer to study the feasibility of hydropower compared to leaving the dam as it is or removing it.
Herbert's proposal, as filed with the FERC, indicates that the dam would be topped by three-foot removable flashboards to raise the water level as needed.
He said he's considering two options for the powerhouse, where the turbine is located: either placing it at the dam or about 1,400 feet downstream, fed by water carried in a channel called a penstock. The latter arrangement would be more expensive but would produce more power.
The application estimates it would produce between one-third and one-half a megawatt of electricity, depending on the design, generating enough power during a year for anywhere from 1,000 to 2,000 homes.
The application is currently in the 60-day comment period.
Spurred by the desire for "green power," or electricity production that doesn't contribute to global warming, interest in hydropower has increased in recent years.
"Between 2000 and April 2009, the Commission has issued 23 licenses for new unconstructed projects proposing a total installed capacity of 273.5 MW. Eleven of these, representing 111.4 MW, have been issued in the last three years, so the trend is definitely up," wrote Celeste Miller, an FERC spokeswoman, in an e-mail response to a query.
If there is interest in getting power from the McLane Dam, there also are many obstacles.
Aside from Milford's uncertainty, the plan is likely to be opposed by people who would rather see the dam removed as part of the process of opening up the Souhegan River to fish movement, particularly since the Merrimack Village Dam was removed last year.
The possibility of removal could be complicated by the existence of the Goldman Dam a few hundred yards upstream. That dam is reportedly in much worse shape than the McLane Dam and is just downstream from a Superfund site known as the Fletcher site, raising the possibility that contaminated sediment may have built up behind it.
In a telephone interview, the FERC's Miller noted that while interest in traditional dam hydropower may be rising, it has really spiked for so-called "hydrokinetic" power, which involves tidal and wave power.
Applications to study those have soared, although no operations have gone online because of the difficulty in making it work. The only hydrokinetic applications in New Hampshire, to study tidal power in the Piscataqua River near Portsmouth, have been withdrawn because the water proved too shallow, too full of boat traffic and too environmentally sensitive.