Small business celebrated at 1st Business Excellence Awards event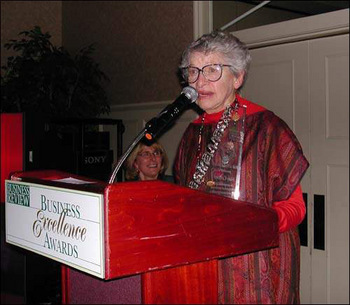 Published: Friday, Oct. 31, 2003
Eleven small-business owners and executives and three New Hampshire residents who have devoted their careers to supporting and aiding both business and their communities were honored Oct. 15, 2003, at the first New Hampshire Business Review Business Excellence Awards.
More than 200 guests attended the ceremony at The Event Center at C.R. Sparks in Bedford to honor the winners.
The Business Excellence Awards are designed to honor and recognize owners of businesses with 100 employees or fewer for their industriousness, determination and innovation.
Sharron McCarthy, publisher of New Hampshire Business Review and vice president of McLean Communications, and Jeff Feingold, editor of the Business Review, welcomed the attendees to the awards ceremony.
"We wanted a hallmark event to recognize small-business owners," McCarthy told the audience. "These aspiring individuals keep the New Hampshire business landscape as vibrant as our fall foliage."
Feingold said the inspiration for the award was that often it's the high-profile "big guys" who are recognized, while "95 percent of businesses" in the state are considered small businesses and aren't honored for their hard work and community efforts. He also introduced the New Hampshire Business Review Business Excellence Hall of Fame, created to honor those who have given a lifetime of support to businesses and communities across the state.
Emcee Ally McNair, former host and contributing correspondent for New Hampshire Public Television's "New Hampshire Outlook" program announced the winners, quoting baseball legend Yogi Berra, "You give 100 percent in the first half of the game, and if that isn't enough in the second half, you give what's left."
In truth, she said, "that is what all of our winners have done – worked harder, longer and smarter and have achieved better things for it."
Sponsoring the event were Public Service of New Hampshire, Fleet Bank and Good Leads, with support from New Hampshire Public Radio, New Hampshire Public Television and The Telegraph.
Judges were Lara Chulack of UBS Financial Services, Mary E. Collins, state director for the Small Business Development Center, Roy Duddy, director of the state Office of Business and Industrial Development, Patricia Goodman, director of student services at New Hampshire Community Technical College-Nashua, and Eileen Kennedy, business editor of The Telegraph.
Named to the New Hampshire Business Review Business Excellence Hall of Fame were:
• George Bald, commissioner of the state Department of Resources and Economic Development, for his career-long commitment to economic development throughout the state.
• Businesswoman and May Gruber, longtime president of Pandora, the multimillion-dollar sweater and sportswear company, for her singular achievements in
business and her philanthropy both in Manchester, the state and beyond.
• David Putnam, chairman emeritus of Markem Corp., for his achievements at the helm of one of the state's largest manufacturing firms and a career devoted to "giving back" to the Keene community in particular and the state as a whole.
The Business Excellence Awards were handed out to business owners in 11 different categories. Winners were:
• Law: David Gottesman, Gottesman & Hollis P.A., Nashua
• Business Services: Susan O'Neil, @Web Site Publicity, Peterborough
• Financial Services: Jules J. Brayman, Brayman, Houle, Keating & Albright, CPAs, Nashua
• Real Estate: Jeff Woodburn, Historic Properties Inc., Pembroke
• Non-Profit: Jim Doremus, The Friends Program, Concord
• Retail: Ed Potenza, Innovations Day Spa & Wellness Center, Merrimack
• Communications: Thomas Obrey, PixelMEDIA Inc., Portsmouth
• Hospitality: Tom Boucher, T-Bones/Cactus Jack's, Bedford
• Technology: Christopher J. Crane, TradePoint Systems LLC, Nashua
• Health Care: Dr. Neil Sullivan, Vasculart, Hampton
• Construction: Dave Bryan, Blackdog Builders, Salem
Winners received an impressive etched trophy as well as a citation from Governor Benson.
"What made this night truly special was that it gave the business community of New Hampshire a chance to honor people who rarely receive such recognition — the owners and executives of the state's small businesses," said Feingold. "And they truly deserve this recognition."Business Excellence Awards 2003 Winners:Jules Brayman *Winner, FinanceBrayman, Houle, Keating & Albright, PLLC12 Cotton RoadNashua, NH 03063595-8000jules@bhka.comDonna M. Robinson, CPA *NominatorBrayman, Houle, Keating & Albright, PLLC12 Cotton RoadNashua, NH 03063595-8000donna@bhka.comThomas Obrey *Winner, CommunicationsPixelMEDIA, Inc.222 International Dr., Suite 175Portsmouth, NH 03801430-2033tj@pixelmedia.comErik Dodier *NominatorPixelMEDIA, Inc.222 International Dr., Suite 175Portsmouth, NH 03801430-2033erik@pixelmedia.comChristopher J. Crane *Winner, TechnologyTradePoint Systems, LLC44 Franklin St.Nashua, NH 03064889-3200ccrane@tradepointsystems.comCathleen Thomas *NominatorTradePoint Systems, LLC44 Franklin St.Nashua, NH 03064889-3200cthomas@tradepointsystems.comSusan O'Neil *Winner, Business Services@Web Site PublicityPO Box 755Peterborough, NH 03458924-8222info@websitepublicity.comChester Bowles *NominatorRegion 14 Applied Technology Ctr.182 Hancock Rd.Peterborough, NH 03458371-0310cbowles@conval.eduDavid Gottesman *Winner, LawGottesman & Hollis, PA39 East Pearl St.Nashua, NH 03060889-5959dgottesman@nh-lawyers.comAnna Barbara Hantz *NominatorGottesman & Hollis, PA39 East Pearl St.Nashua, NH 03060889-5959ahantz@nh-lawyers.comDave Bryan *Winner, ConstructionBlackdog Builders, Inc.7 Red Roof LaneSalem, NH 03079898-0868dbryan@blackdogbuilders.comGail Butterfield *NominatorBlackdog Builders, Inc.7 Red Roof LaneSalem, NH 03079898-0868gbutterfield@blackdogbuilders.comJim Doremus *Winner, Non-ProfitThe Friends Program249 Pleasant St.Concord, NH 03301226-3884jdoremus@friendsprogram.orgMartin Murray *NominatorPSNHPSNH Energy ParkPO Box 330Manchester, NH 03105-0330634-2228murrame@psnh.comDr. Neil Sullivan *Winner, Health CareVasculart19 Hampton Rd., Bldg. A, Ste. 8Hampton, NH 03842778-2417info@vasculart.comKelly Whalen *NominatorCalypso Communications208 Market Street, Ste 300Portsmouth, NH 03801431-0816kwhalen@calypsocom.comEd Potenza *Winner, RetailInnovations Day Spa & Wellness Center228 Naticook Rd.Merrimack, NH 03054880-7499epz207@msn.comLinda Bonetti *NominatorMerrimack Chamber of CommercePO Box 254Merrimack, NH 03054424-3669info@merrimackchamber.orgJeff Woodburn *Winner, Real EstateHistoric Properties422 Pembroke St.Pembroke, NH 03275485-8300jeff@historicprop.comWendy Libby *NominatorHistoric Properties422 Pembroke St.Pembroke, NH 03275485-8300wendy@historicprop.comTom Boucher *Winner, HospitalityT-Bones/Cactus Jack'sMillyard Technology Pk19 Technology WayNashua, NH 03060595-7300tb@tomboucher.comBrian Johnson *NominatorShorty's Mexican Roadhouse9 Dublin CourtBedford, NH 03110488-1548bjohnson@shortysmex.com