Small business, banks look for a match at lending expo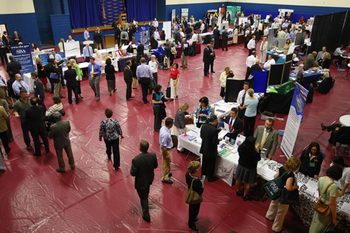 When Angeline Kopka lost her job in finance to a soldier returning from World War II, she decided to pursue a career in real estate. But the first person she turned to for advice had some harsh words.
"There's no room for women in the real estate business," Kopka, 93, of Nashua, said a particularly gruff agent told her. Undeterred, she went on to found Kopka Real Estate, selling her first home in 1953.
Today, the small business Kopka created faces a new set of challenges, not the least of which is the economy. It's harder for her clients to find financing with banks no longer looking past minor blips on a credit report, she said.
Kopka, a state representative for Nashua's Ward 5, and her daughter, Jan Geno, who now runs the business, were among hundreds of small-business owners who gathered Monday in Manchester to find out what financing options are still available in this depressed economy.
In the wake of the subprime mortgage crisis, banks across the nation instituted stricter lending standards, making it tougher for consumers and business owners to get financing.
The goal of the Small Business Financing Fair, organized by U.S. Sen. Jeanne Shaheen, was to match current and prospective small-business owners with banks that are lending, as well as some of the state's small-business resources. The event took place in the gym at Southern New Hampshire University from 8:30-11 a.m.
George Bald, commissioner of the New Hampshire Department of Resources and Economic Development, called it the largest financing fair in state history. There were more than 400 attendees, in addition to the 45 local lenders and state and federal agencies that served as vendors.
Michael De La Cruz, 52, of Portsmouth, came in search of financing to take his "theoretical biology" research to the next level. He has spent years studying how the soul fits into the body, and which particular organs attach the soul to the brain, he said.
De La Cruz, who runs several other businesses, including a commercial real estate enterprise, is looking to make three-dimensional movies that illustrate his research. To do that, he'll need software and a small staff trained in graphics and animation.
"I'm here trying to raise money to get the people and equipment," De La Cruz said. "Those people cost a lot of money."
Dallas Lagerquist, business development officer for Manchester-based Hampshire First Bank, said the crowd was a mixture of would-be entrepreneurs looking for start-up cash and current business owners in need of financing.
"There were some viable business ideas," Lagerquist said. "I was expecting to hear more of the credit-crunch stories."
Hampshire First, which also has a branch in Nashua, spoke with two start-up companies – one a barbecue restaurant and the other in the defense sector, she said. The bank collected about a dozen names from the event and hopes to provide financing for at least two or three, Lagerquist said.
Michael Donahue, senior credit officer for the New Hampshire Business Finance Authority, said more of the sad stories reached his booth.
"We were hearing today mostly from businesses that have been going through tough times and need to find financing to keep going," he said. "A lot of the businesses that I talked to today had a rough winter, and they're trying to turn things around."
The New Hampshire Business Finance Authority provides loans to small businesses and loan guarantees to New Hampshire banks. The authority has been busy lately because banks are more likely to lend to a business when there's a third-party guarantee, he said.
Similarly, the New Hampshire chapter of the U.S. Small Business Administration has seen an uptick in loans and loan guarantees.
The agency handled 209 loans totaling $26 million in the last four months, compared to 137 totaling $16 million in the prior four months, director Wit Jones said.
Jones attributes some of that increase to the stimulus package – the SBA received $730 million nationwide to temporarily suspend its guarantee fees. But he is also generally optimistic about the state of lending in New Hampshire.
"If you go into a bank with a business plan, that makes sense. Whether it was last year or this year, you're going to get a loan," Jones said.
Geno, who lives in Brookline, wasn't quite as encouraged after chatting with some of the banks at the fair. One of her biggest concerns is that borrowers need to have nearly flawless credit to get a loan right now, she said.
"We wanted to see what the banks are offering and what they're going to do to help the economy rebound," Geno said. "It didn't fill me full of joy."