Slow-motion recovery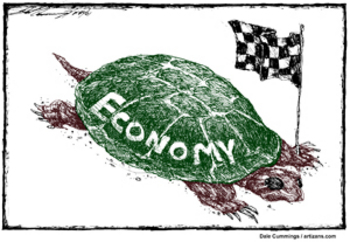 The housing slump led us into the Great Recession. Will a housing rebound, fueled by stimulus housing credit, lead us out?Perhaps — but right now, the economy is following the real estate rebound sluggishly, reluctantly, and sometimes not at all. Most businesses are grateful just to tread water — but they are hardly out of the water."Flat is the new up," said Chris Kozlowski, chef and owner of the Orchard Street Chop Shop in Dover and chairman of the board of the New Hampshire Lodging Restaurant Association.Or, as economist Dennis Delay of the New Hampshire Center for Public Policy Studies said: "The rate of decline has slowed considerably. A lot of the strength was a direct result of the stimulus package, but that stimulus was more of a cushion than a stimulus. Or a floor. Or a safety net."But the housing market does appear to have been stimulated.In November, New Hampshire housing sales jumped nearly 70 percent from last year — the biggest year-over-year monthly jump in history, according to the New Hampshire Association of Realtors, which credits the federal stimulus tax break for the surge."This is the strongest indication of what we've seen in some time that the recovery is under way," said Realtors' president Paul Sargeant.But try telling that to Nancy Henderson, innkeeper at Sunset Hill House in Sugar Hill, who had to reduce her staff by 80 percent to get by. The classy inn, which has been around for 125 years, is just hanging on for dear life, she said.Business is down as much as 35 percent, "with no sign of any improvement," according to Henderson.Reduced workforce means reduced service, which leads to a "diminished experience, which becomes a very vicious cycle," she said.Yes, she's heard about signs of recovery down south, but "the North Country is really hurting."The data – even some of the negatives – contain signs of recovery, as do interviews with business owners in some sectors of the economy or some pockets of the state. But overall, the recovery will be excruciatingly slow and too late for many.Here is the "good" news: • Thanks to the November surge, housing sales are actually up year to date (with one month left to go) by 5.2 percent. That's an increase from a terrible year, but considering how dead in the water the market was in January, Realtors are relieved. However, the median price of a home is still down by 10 percent.• Unemployment is "only" at 6.7 percent in November, slightly less than in September and October. However that is still 2.6 percent higher than last year.• In construction, contracts for future projects increased by 81 percent in October, but that may be thanks to road building stimulus, which doubled highway spending in New Hampshire this year. Residential building permits were off 32 percent compared to last year, which was 28 percent below the previous year.• The Cash for Clunkers program gave automobile dealers a shot in the arm, but many dealers were shot in the head by the General Motors and Chrysler bankruptcies. About 20 were cut off to fend for themselves.• State rooms and meals tax revenues rose by about 10 percent, but business taxes as a whole have fallen by about the same amount.Those are the highs and lows of this troubled economy. Now let's begin a more detailed examination.
Jobs"It is all about jobs," said Russ Thibeault, president of Applied Economic Research in Laconia. "The recession is only part of it. We didn't come out of the last recession very strongly."New Hampshire's seasonally adjusted jobless rate was 6.7 percent in November — a decrease of a tenth of a percent from October, which was four-tenths of a percent lower than September. Yet last November, the rate stood at 4.1 percent.The number of jobs added to the New Hampshire economy also was minuscule – 2,070, bringing the total to 689,510. That's 18,740 fewer jobs than a year ago.According to Thibeault, this is part of a disturbing long-term trend.In the last three decades of the last century, he said, the state has added an average of 117,000 jobs, according to figures he supplied. In this decade, it has added a paltry 14,000."Frankly, I don't know where the jobs are going to come from," he said.In November alone, the state lost 7,300 manufacturing jobs, 3,300 construction jobs, some 5,000 service jobs (primarily in retail), 1,200 financial jobs and 1,900 professional and business services jobs. Even the education sector saw a 1,700-job drop-off.Of course, there could be an argument that without the stimulus packages, the situation would be even worse, but it would be a difficult argument to prove, because hard – or at least believable — numbers on the number of jobs created by the stimulus package are difficult to come by.Some companies are thriving, however. For instance, there are signs of life among the state's software manufacturers, thanks in part to a continued increase in defense spending."We are not talking about tons of head count here," said Matt Pierson, chairman of the New Hampshire High Technology Council, of the number of new jobs being created. "Just a few at a time."For instance, Pierson is chair of the board of JitterGram, which helps companies launch their presence on social media networks. It's hiring some extra people. And he also is on the board of Nanocomp Technologies in Concord, which creates advanced materials that can be used for defense and manufacturing purposes.Nanocomp has nailed a couple of defense contracts which will increase its staffing from 40 to 55 over the next year and a half, Pierson said.
Construction and real estateBut a slight uptick in fortunes doesn't always translate into hiring.At Harvey Construction, a Bedford commercial building firm, "Some of the older projects are coming back to life, but we are not hiring. We are at capacity. You need to be above capacity before you can add people," said Bill Stephen, the vice president of operations.Stephen's story can be heard over and over again, said Gary Abbott, president of Associated General Contractors of New Hampshire. On the one hand, thanks to the federal stimulus, the state received $300 million for work, more than doubling the usual haul. On the other hand, most of that stimulus money is used up, and there is not much in the pipeline to take its place."The private side is very slow," said Abbott.There simply isn't much demand for commercial space."It's been fairly slack," said Michael Monk, principal of Monks & Co. Inc. in Nashua. "The good news is companies are going to stay in the state. The bad news is that they are going to take less space."Oddly, there is some interest in buying commercial property because the price is right, but there isn't much interest in leasing, or building."If you can buy it cheaper than you can build it, then a company may make use of an opportunity," Monks said.But a slump in commercial real estate didn't start this recession. You can blame the housing slump for that. November's high sales numbers may be signaling that the slump may be finally over.A "substantial part" of that nearly 70 percent jump in November has to do with the $8,000 first-time homebuyer federal tax credit, which was due to expire in November (but has since been extended), said David Cummings, spokesperson for the state Realtors association.But it also is an exclamation point on a number of small increases over the last several months.The jump in sales, combined with only a small decrease and a shrinking inventory, shows that "we are – and I don't think this is a stretch – heading out of this. It is starting to look like the market is stabilizing," said Cummings.The median price of a home in November was $209,000, some $6,000 (or 2.8 percent) lower than the median price last year.Year-to-date, sales are up 5.2 percent, which would have been "unbelievable" in the early winter months when the market seemed to have died, said Cummings. And the average price for the year was $212,500, slightly more than 10 percent lower than what it was in all of 2008.It only took an average of three more days to sell a home this November than it did last November, and the state now has about nine months of inventory, compared to a nearly two-year backlog when the housing slump was sinking into its deepest rut."My last four closings were because of the tax credit," said Maxine Goodhue, a Realtor with RE/MAX Omega Group in Manchester and president of the Greater Manchester Board of Realtors. "The stimulus is keeping people moving rather than just waiting for the spring."But Goodhue mainly credits the drop in prices – which in Hillsborough County fell to $220,000 — $10,000 less then a year ago – which made it more affordable for first-time homebuyers."First-time homeowners could only afford so much. But now, the prices are so low, they need to get off the fence and do it," she said.The housing surge has not resulted in more residential construction, but there is more remodeling going on. It's a combination of first-time homebuyers fixing up their new place and those who decided to stay put rather than move."We booked 30 percent of the volume this year in the last month," said Greg Rehm, owner of Liberty Hill Construction in Bedford. "Last quarter, we were seeing the $100,000, $200,000, $300,000 remodel projects that we've all been waiting for."He attributed the change to "people who lost equity in their homes who are investing in where they have decided to stay." And those firms that shunned remodeling for new-home construction, have suddenly started to seek out this kind of work, he said.
HospitalityPeople are staying home in more ways than one."It's been bad," said Mike Somers, president and CEO of the New Hampshire Lodging and Restaurant Association. Business among his members "was slightly up from last year, but last year was a horror show," he said. "Some operators are down as much as 40 percent."It isn't just hotels. The vacation-home market has been "pretty bad," according to Tom Tremblay of Coldwell Banker LinWood in Lincoln, though homes on the low end of the market (under $200,000) are selling.It isn't just that most people don't want to take the risk on a second home, many lenders don't want to take a risk on the buyer.The buyers in turn "don't want to jump through all the hoops the banks are making us jump through," said Tremblay.Meanwhile, he said, the "investor is pretty much out of the market right now."It's the same with restaurants. The high end is suffering, but middle-market restaurants seem to be faring a little better, said Somers, "because everybody is trading down to pinch their pennies."There was some interest in holiday parties, but "I wouldn't say it was an uptick. Maybe we hit bottom, and we are creeping — not bouncing — up," Somers said.Kozlowski said he was lucky that the Orchard Street Chop Shop matched last year's figures "because most will say it was way down."He attributes his restaurant's performance partly to promotion of his more casual restaurant upstairs. But fine dining is down, as are holiday parties, he said."We used to see parties with 80 or 100 people. Now you have 15 or 30 managers with a very tight budget."At The Common Man restaurant chain, business also has been flat, thanks in part to the performance of the chain's lower-priced diners."If your sales aren't shrinking, you must be doing something right," said Jason Lyons, chief executive of the Common Man family.
RetailThe stay-at-home mode is helping some retailers, like kitchenware seller Things are Cooking, which recently moved from the Steeplegate Mall to downtown Concord."We are doing fine," said Art Learned, who owns the store with his wife Janet. "People are not eating out in restaurants, so they buy some good pots."But for most retailers, things have been pretty flat.Nationally, retail sales rose 1.9 percent in November, according to a recent national survey.In New Hampshire, members of Retail Merchants Association report similar results. Some 47 percent said sales were the same as or better up to Thanksgiving and 57 percent expected an improvement for the crucial Christmas season.How bad were things last year?"I didn't even want to report some of the things I was hearing, they were so bad," said Nancy Kyle, chief executive of the merchants association.Bob Sanders can be reached at bsanders@nhbr.com.