Slew of spending measures shot down at Town Meeting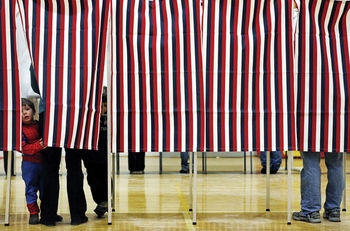 The results of Tuesday's town and school meeting votes would almost fit nicely into a popular Christmas song, if only the reality wasn't so grim.
Across a half dozen Greater Nashua communities, voters defeated six union contracts, four long-term bonds, three town budgets, two land deals and a town manager position.
Even without a partridge in a pear tree, it was obvious voters were not in merry sprits. The culprit is an obvious one.
"I truly believe it's just because of the economy and people are worried about their jobs and their homes," said Hudson Selectman Chairman Benjamin Nadeau. He added, "I've said that all along I expected a lot of things not to pass."
Nadeau said his group "did the best we could" with the projected numbers for next year, but voters still scrapped funds for fire station land assessment, wage increases for some town employees and – on the school side – three collective bargaining unit contracts.
Voters also established a rather dubious milestone by defeating the town operating budget for the first time since Hudson became an SB2 town more than a dozen years ago, said Town Administrator Steve Malizia.
"Given the economic climate, I can't say I'm very surprised," Malizia said Wednesday, referring to the slew of articles that voters slapped down. "But still, our biggest disappointment is the operating budget (failing)."
The town now must implement the default budget, which is about $100,000 less than the $26.9 million budget.
Litchfield is in the same boat. Along with a $1 million road bond, two union contracts and a town manager's position, voters there also rejected its $4.2 million operating budget.
Did that surprise Selectman Chairman Frank Byron?
"Quite bluntly, no," Byron said. "I expected that the voters would probably turn down a lot of those things. My feeling is that as a selectmen, I am responsible for telling the voters what we need as a community, in my best estimation. Then it's up to us as voters to make a decision whether to fund those or not."
But Byron felt voters didn't enter the booths with a strict "vote-everything-down" mentality because two items – the land bond and the town manager's position – came up just short of the required votes.
"I think people voted with their pocketbooks or their wallets, but I think people did take a look at what was there and considered it," Byron said.
Amherst Selectman Chairman Bruce Bowler said he felt voters were faced with a conservative budget, but a majority didn't agree with him. The $9.87 million spending proposal was rejected, 1,350 to 936.
"It was shocking, to say the least," Bowler said. "We have thought that the budget may become a default but didn't think it would be defeated as badly as it was."
Selectmen will have to pare it back by $133,000 before the new fiscal year in July.
"I understand the voters," Bowler said. "They don't want taxes to go up, and neither do we. I think sometimes people forget we're taxpayers. . . . We've got our work cut out for us now. Everything will be on the table."
Mont Vernon voters, during traditional town meeting Tuesday night, completely wiped out three spending items totaling $75,000, plus cut $27,000 from town employee salaries.
Even town library trustee Cindy Raspiller suggested voters axe $10,000 for a library reserve fund, saying the current building can't be expanded as it is anyway.
In this economy, it wasn't a shock when voters followed her lead.
Steve Norton, executive director of the Concord-based New Hampshire Center for Public Policy Studies, said his observation of news reports from around the state Wednesday showed "resounding no's" from voters on major spending items.
But in general, Norton said, "There didn't seem to be a great panic, but a level of uncertainty about what the future may hold. It wasn't as if the townspeople said 'We don't want to spend money' . . . They said, 'At this point, caution is in order.'"
More drastic measures could have been taken at deliberative sessions, Norton said, but this year, it was a "rare case" when people amended budgets to reduce spending. Indeed, at Merrimack's recent town and school deliberative sessions, no member of the public touched a thing.
Despite the flush of rejected items, Norton warned that the real extent of the crisis hasn't quite reached towns yet.
"What is hitting towns right now is enormous uncertainty on the state budget, funding for towns and schools, and how stimulus money will be distributed," Norton said. "On a huge level, they're almost saying, 'We need to punt.'"