Ski areas see benefits in sustainability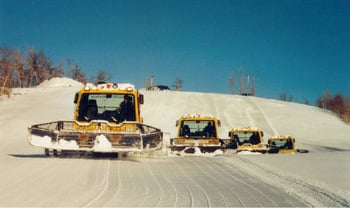 From biodiesel snowmaking equipment to soda can recycling, New Hampshire ski operators are showing how businesses can employ sustainable practices that are both good for the environment and can attract the attention of key customers.
"We're looking at what we can afford to do and what we can afford not to do," said John DeVivo, general manager of the state-owned Cannon Mountain in Franconia Notch.
DeVivo, who has been on the job for six months, has already been pursuing green practices at the mountain in a big way.
"We've put together a green team and are developing a three- to five-year plan to go green," he said. "We plan to take an aggressive stance."
Currently, the Cannon Mountain facility has a small-scale soda can and bottle recycling program, but that's about to change.
"We're working with Pepsi to start a much larger recycling program," said DeVivo.
As they buy equipment, said DeVivo, they are choosing more efficient models. The new snowmakers make more snow with less air, he said.
DeVivo said part of the facility's long-range planning is to conduct an in-depth energy audit and looking into moving to biodiesel to power some of their equipment.
"We'd like to follow Cranmore's model over the next couple of years. They've been doing biodiesel for longer than anyone," DeVivo said.
Cranmore Mountain in North Conway has been using biodiesel since 2003, making it not only the first ski area in New Hampshire but the first east of the Mississippi River to use alternative fuels to power operations.
Through the use of state grants, Cranmore was able to defray some of the costs of the biofuel (which at the time was significantly more expensive than regular diesel) and for construction of a special above-ground storage tank for the fuel.
Back then, the use of biodiesel was something of a gamble because resort operators weren't sure if the fuel would work well in frigid winter temperatures.
"We were used as a case study, and the biodiesel performed as well, if not better in some cases, than petroleum diesel," said Kathy Bennett, marketing director for Cranmore. "The biodiesel did not require any special adaptations to the cold."
Currently, Cranmore is using B20 biodiesel — 20 percent biofuel made from soybeans and 80 percent conventional diesel — in its snow groomers and heavy snow-moving equipment as well as B5 to heat its base lodges.
Other initiatives
According to SkiNH, a marketing association of 38 ski resorts and 200 lodging properties in the Granite State, other ski areas are turning to biodiesel to run parts of their operations, including the grooming fleets at Bretton Woods and Loon Mountain. Pats Peak and Balsams Wilderness are studying the option as well.
While most street-corner gas stations might not have biodiesel at the pump yet, Bennett said, supply has not been a problem for Cranmore.
"When we first started, biodiesel was about 15 percent more expensive than regular diesel, and it had to be transported from much further," she said. "Now we get our biodiesel from Jessie Lyman Oil just up the street. Today, there are also more suppliers in the area, which has also kept prices about the same as regular diesel."
But cost savings weren't necessarily at the top of the list for Cranmore's green strategies.
"It's really just the right thing to do," said Bennett. "Ski areas are really affected by climate change. We are the canaries in the coal mine for this. We've been here for 70 years. If we want to be here for another 70, it doesn't make sense to pollute our environment."
While the use of biodiesel is important to Cranmore's operations, the resort has several other green initiatives.
In the last two years, Cranmore has purchased some 30 high-efficiency snowmakers that run on electricity but make more snow and use less energy, said Bennett.
Cranmore also has begun a facility-wide recycling program, despite the difficulties of finding a waste management firm to handle the recyclables.
"Our bartenders would put out boxes for guests to place their empty beer bottles in, then take them to the dump themselves," said Bennett. "It's more work, but it's the right thing to do."
The ski resort also has instituted an anti-idling policy for both employees and guests.
"Although it might be easier to leave a snow groomer running, the exhaust in the garage bay was creating noxious fumes," said Bennett. "The anti-idling policy has really improved the air quality around the resort and the quality of life at the workplace."
Cannon, Bretton Woods, Crotched Mountain, Gunstock, Pats Peak, Jackson Ski Touring Foundation and Loon also have anti-idling policies, requesting visitors and employees to shut off engines, thereby lowering exhaust emissions from running buses, cars and other vehicles.
Cranmore also has endorsed the Regional Greenhouse Gas Initiative, a collaborative effort of 10 Northeastern and Mid-Atlantic states to achieve reductions in carbon dioxide from fossil fuel power plants.
In Newbury, Mount Sunapee Resort also is embracing innovative energy sources.
According to Bruce McCloy of Mount Sunapee, starting this season the resort has begun using B20 biodiesel for its snow-grooming and heavy snow-removal equipment as well as B5 diesel to heat its base lodge and other buildings.
Mount Sunapee also has acquired renewable energy certificates – from wind generators — to offset 100 percent of the electricity it uses.
Mount Sunapee's snow also is getting greener, said McCloy. The resort purchased 18 high-efficiency snowmakers this season, which can produce the same amount of snow at above 25 degrees as older guns using 12 percent to 25 percent of compressed air per gun.
"We also participate in Emergency Demand Response Program with ISO-New England from November to March. We will voluntarily shut down all of our snow-making operations within 30 minutes if ISO-New England calls for it," said McCloy.
Mount Sunapee's sister resorts — Okemo Mountain in Vermont and Crested Butte in Colorado — also have alternative fuel programs. Among the three resorts, some 18,800 tons of carbon dioxide will be prevented from being released this season, said McCloy.
"Immediate cost savings are hard to tell," said McCloy. "We pay a premium for the energy credits. On the other hand, people are frequently making their purchasing and travel decisions based on green energy."
Karl Stone of SkiNH said the organization is starting to promote awareness among skiers of the green attitude of New Hampshire's ski areas.
In fact, while up-front costs may be greater with greener programs, said DeVivo of Cannon, in the long run customers are expecting it and are demanding it.
"We owe it to the state and the public at large," to go green, said DeVivo.