Silence may be earthen near highway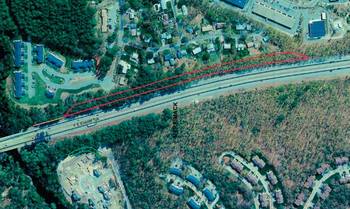 MERRIMACK – Residents who clamored about thunderous traffic noise due to a state construction project may have quiet in their future.
Folks on Hillcrest Drive, situated just east of the F.E. Everett Turnpike, told town officials last year that the state's removal of trees and rock ledge for the Merrill's Marauders Bridge renovation project was causing them earsplitting problems.
With no more natural sound barriers, Hillcrest Drive residents said they were concerned about safety, and couldn't enjoy their back yards or hear themselves think. The situation "makes it sound like we live next to a racetrack," they wrote in a petition to the state.
State transportation officials will meet today with residents to propose building an earthen berm, which is designed to shield properties from noise, said Charlie Hood, administrator for bureau of environment. In the meantime, Merrimack state legislators have a back-up plan, should residents balk at the DOT's proposal.
The state's berm, to be built on the east side of the highway, would be 2,000 feet long and 18 feet high, Hood said. Those measurements are based on certain calculations so the mound blocks residential sight-lines to the highway and noise from tires, engines and exhaust.
In some areas of the state, sound barriers come in the form of pressure-treated wood and concrete posts. Both that and an earthen mound block noise, Hood said, but a wall reflects it while a berm absorbs it. In theory, a berm reduces noise by three decibels more."We hope they like it," Hood said. "We think it will do a good job for them."
The berm would cover the Hillcrest Drive neighborhood and extend at least an extra 100 feet on either side to prevent noise from "coming around," Hood said.
The state could not extend the berm to Penacook Place condominiums north of Hillcrest because terrain slopes down and harbors vernal pools, Hood said. Instead, the state would replace trees, install a fence or discuss other options with those residents.
Across the highway on the west side, the state will pitch a plan to build up an existing berm that protects condominiums on West Chamberlain Road. Because that's private property, residents would have to agree to temporary easements for construction and would have to maintain it, Hood said.
The state's rough estimate for the berm is $400,000, which would include tree clearing and land preparation, materials, post-construction stabilization and landscaping. The cost of doing work on the west side is estimated at $100,000.
Although rough estimates put sound barrier costs at $500,000, Hood said the number could go higher – say up to $800,000 – depending on bids and how the general construction timeframe shakes out.
In preliminary talks with the contractor, if they receive complete information by April, the barriers could be complete by the end of the year, Hood said.
In another effort, Merrimack state legislators introduced a bill in January for a $1.65 million wall sound barrier for the east and west sides of the turnpike.
"I thought, and others thought, that the state did not complete their planning when they left the houses in that area wide open for all the noise and danger," said Rep. Peter Batula, R-Merrimack, of his reasons for pushing the legislation.
The state has a policy for when it entertains calls for noise abatements, Hood said, which include projects with significant road alignment changes or additional travel lanes.
The bridge project would add space for future additional lanes in each direction, but that didn't really fall under the state's criteria. After residents complained, Hood said, the DOT thought twice.
Also, Hood said he measured noise levels in the area after the complaints, and they registered at 69 decibels. Noise levels must reach 66 decibels for noise abatement consideration.
A house public works committee will hold off on deciding the bill's course until after tonight's meeting, Batula said. At that point, he plans to poll residents and the town's legislators to decide whether to proceed with the bill, or kill it.