Sign pickups irk GOP official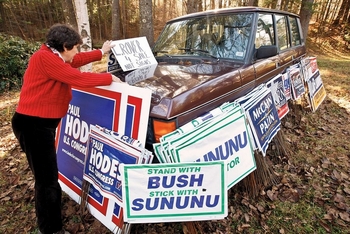 HOLLIS – You could call it an argument over whether the glass was half-full or half-empty.
That's the nutshell version of what appears to have been a misunderstanding last week between the town's Republicans and Democrats.
Some Republicans are miffed at the Democrats for picking up political signs of both parties after last week's election.
The Democratic Town Committee chairwoman, on the other hand, says the mass pickup was unintentional, adding that volunteers inadvertently picked up all signs rather than just those of their party members and that some GOP candidates were glad for the help.
Republican Town Committee member Gerald Leach, who placed signs around town promoting his party's candidates, was outraged.
"When I gain permission from property owners to place political signs, I let them know of my intentions to clear them post-election," Leach wrote in an e-mail to The Telegraph. "Often times, they notify me of their intent to handle this responsibility on their own."
Leach said that according to tradition, some supporters leave their signs up following an election. So he was puzzled during a collection run Wednesday when he found the signs had already been removed.
Confusion turned to anger after the Republican learned that the signs were sitting in a pile on the lawn of Claire Helfman, chairwoman of the Democratic Town Committee.
"Not only had the law been ignored by removing the signs without permission, but the signs had been piled on her front lawn and prominently overshadowed by her 'Hollis Democrats,' as if to publicly display her party's victory," Leach wrote.
Leach said he was calling on Helfman to make a public apology to property owners whose signs "were stolen." He also said it was "outrageous" for Helfman to call Republicans and ask them to pick up their signs from her yard.
Helfman viewed the tiff as an unfortunate misunderstanding.
"Every year, between 5 p.m. and 7 p.m., we go out and pick up all the Democrat signs," she said, describing a tradition among town Democrats. "This year, people went out and picked up everyone's signs. They brought them to my house and put them in neat piles."
Helfman said after she realized what had happened, she called several Republican candidates whose signs were in her yard.
"I had no intention of ever doing anything with them," she said.
"There was no malice whatsoever," Helfman added.
District 5 Republican Carolyn Gargasz, who won her race for the state House of Representatives, said she thanked Helfman for calling her and for picking up her signs.
"I appreciated it because I needed help," the Republican candidate said. "I looked at it as a public service."
Still, Gargasz said she understands the frustration of fellow Republicans, including Leach, who "worked hard" putting up signs.
"I understand getting upset," Gargasz said.