Sick swine nursed to health at Nashua animal medical center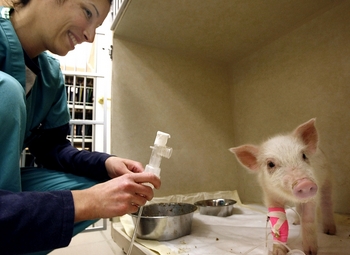 NASHUA – Inside the barn, a tiny Yorkshire pig lay alone.
While many of her 10 siblings ran about, their bellies full of milk, the single swine could barely move, her breathing harsh and raspy.
At 7 weeks old, the sick pig's brothers and sisters were luckier than she in getting to their mother during chow time, lapping up survival.
Unfortunately, some sows play favorites. In this family, the lowly Willamina wasn't one.
Word of the sick piglet reached Kathy Breault's ears Saturday. The Francestown resident learned from her friend – the pig's owner – that the animal would likely perish.
"I just couldn't leave her there," said Breault, who grew up with pigs and other animals on a farm in Massachusetts. "I felt horrible. She's just a little baby. I couldn't do it. So I grabbed her."
Breault wrapped up the pink, eight-pound bundle in a blanket. Then, the two raced off, the pig riding shotgun all the way to the Animal Medical Center of New England in Nashua, where Breault is director of operations.
The center, open since 2004, treats about 7,000 animals each year, but the clientele is mostly cats and dogs – never a pig.
Luckily, Dr. Michael Gay was on duty; he had some experience treating farm animals. Even so, Breault and Gay had doubts about the little pig's future.
"She was in pretty rough shape when she was brought in," said Jamie DeKraai, a veterinary technician. "She was lying on her side, pretty much lifeless, and not really eating."
An X-ray showed pneumonia had clogged both of the pig's lungs.
She had a temperature of 105. (Pigs usually measure at 99 to 100 degrees.)
Her breathing was heavy, and she couldn't even stand.
Gay gave her less than a 50 percent chance of surviving.
The clinicians used the techniques they would for cats and dogs, Gay said. They inserted an IV, gave the pig antibiotics and put her in an oxygen cage for the night.
"We just basically took it hour by hour," DeKraai said.
By Sunday morning, the pig was showing signs of improvement – and had even picked up a name from the staff: Willamina.
She was weaned off oxygen and moved to a normal cage. Then, Willamina started showing more pig-like signs, like scarfing up a special corn-based mash.
Dr. Gay called Breault.
"He said, 'Your pig's looking great,'" Breault recalled. "I was all excited. This poor little helpless thing didn't have a chance in life . . . It's satisfying that she pulled through."
By Monday, Willamina was still hanging out in the intensive care unit, along with half a dozen dog and cat roommates. According to Breault, she was also showing a little personality.
"She's feisty," Breault said. "She squeals a lot. She doesn't like to be held, but she likes the attention, like scratching her ears and head."
Gay said he hopes to discharge the center's first pig patient in a few days. And when Willamina leaves, she'll find a home with four other pet pigs on Breault's 10-acre farm.
You can bet she'll dig that.