Sick child gets wish with moose hunt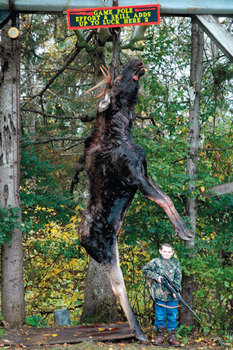 Keith Locke has discovered the first pitfall of celebrity: losing recess.
The 9-year-old Weare boy bagged an 850-pound moose earlier this month in northern New Hampshire, an adventure that was especially fulfilling because Locke – who suffers from a rare and incurable health condition – donated most of the meat to the New Hampshire Food Bank.
In the past four days, Keith has been on local television and granted interviews to several newspapers. His story was picked up on MSNBC.com, and his dad, Tim Locke, of Concord, was still fielding requests for interviews Monday.
Last week, Keith's fourth-grade classmates had so many questions about the moose trip that Keith couldn't get his schoolwork done. He had to stay inside to finish.
While that wasn't so cool, Keith said in a phone interview Monday, the rest of it has been sweet.
"He really enjoys the outdoors," Tim Locke said. "His heart is as big as you could ever imagine, and he has a lot of love for his family and friends, and he enjoys the outdoors and the opportunity to be and me with me hunting, fishing. We're into that stuff."
Keith has juvenile dermatomyositis, a rare autoimmune disease that causes weak and pained muscles, severe fatigue, digestive trouble, lung and heart problems. There is treatment to manage the illness, but no cure.
He was diagnosed two years ago, his father said, and has gone through a gamut of testing and treatment at Boston Children's Hospital.
Now, Keith has a shot of medication every week, takes other treatment and attends physical therapy. He sometimes feels weak and sick to his stomach, and no one is sure exactly how the condition will progress.
"He's doing very well with it," Tim Locke said.
Hunting has been Keith's favorite pastime and a longstanding sport in the Locke family. Locke's own dad took him when he was a boy, and the tradition continued when Keith tagged alongside his dad starting at age 6.
The following year, Keith got his first turkey.
"Well, it's exciting to do," Keith said of hunting. "I have more time with my dad."
Last year, the father-son duo went bear hunting with Steve and Karen Courchesne of K&S Outdoor Adventures, a hunting guide service in northern New Hampshire.
"They took an awful liking to my son," Locke said.
Steve Courchesne told Locke about a new program available to New Hampshire kids with serious illnesses. It's tied to a change in hunting permit laws that went into effect this year.
Bob L'Heureux, a state representative from Merrimack who spearheaded the change, said he met a family several years ago whose son was terminally ill and wanted to hunt but such a request wasn't available through local organizations.
L'Heureux then approached the state's fish and game department in 2006 with an idea to grant hunting permits to sick children.
"These individuals . . . they're going through enough with their problems," L'Heureux said. "For a moment in time, if we can make them forget it, that's it."
The legislation now calls for two hunting permits to be issued each year to an organization that grants such adventures to children younger than 21 with life-threatening illnesses.
Normally, the permit process is luck-of-the-draw. This year, 15,000 people from all over the world applied for moose hunting permits in New Hampshire. Just 515 won them in a computer-generated lottery, according to the state's fish and game department Web site.
New Hampshire Safari Club International is the organization that coordinates the program for kids. The Lockes applied this past spring, going through a registration and screening process that included doctor's permission and liability waivers, said Dale Carruth, the club's president, who is from Nashua.
In September, Keith became the first kid in the state to be awarded the special permit. He chose to go on a moose hunt, his father said, because the Courschenes have a 100 percent success rate in bagging moose.
The safari club organized the details and coordinated donations of a rifle, camouflage gear, transportation and lodging. It also organized a practice shoot for Keith, safety instruction and made sure medical records were on hand in case of emergency.
Finally, on Oct. 1, the Lockes headed north for the hunt, joining several guides, L'Heureux and Carruth.
On Oct. 2, the group went out early and "heard stomps" in a clearing, Keith said, but the moose wasn't showing itself.
Later that afternoon, as night was falling fast, the group turned back for camp. Then, all of a sudden, a bull moose was just behind them.
"We were in the middle of the field, and the moose was looking straight at us," Keith said.
L'Heureux said Keith aimed, fired – and nothing. They forgot to load the rifle.
"It was dark," Tim Locke said with a laugh. "There was chaos for about three minutes."
Keith finally fired twice, and that was it.
"We started celebrating, screaming, yelling," he said.
"That boy never walked off that mountain," L'Heureux said. "He floated off that mountain."
When all was said and done, Keith's moose, a 2-1/2-year-old bull, weighed 850 pounds – about 10 times more than Keith.
He decided to give 400 pounds of meat to the New Hampshire Food Bank, which received the donation Friday.
"I know there's a lot of people not like me who (don't) get to eat every day," Keith said. "I thought I could actually have them eat."
Carruth and L'Heureux intend to keep supporting the program. At the end of five years, the provision will lapse unless it's renewed. L'Heureux said he designed it that way to gauge response. He hopes to make it a permanent law, with up to five permits to be made available to qualified kids.
As for Keith, he's looking forward to receiving his mounted moose head.
He plans to hang it on his grandpa's porch.