Shovelful of thanks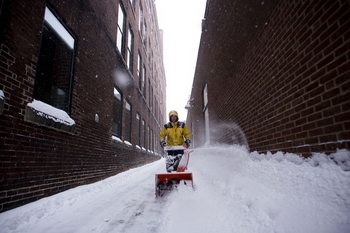 Lozeau also thanked residents who helped clear many of the city's 200 miles of sidewalks. She and school officials had asked for residents' help in shoveling paths so students could make it to school the Monday following the snowstorms.
Plamondon, whose ward includes much of the downtown area, asked for residents' continued help this winter.
"Please, residents, shovel off the sidewalks, not just in the school areas," Plamondon said.
Snow-covered sidewalks pose a serious impediment to disabled and elderly residents, as well as children, he noted.
Plamondon also asked for residents' help in keeping fire hydrants clear.
"We still have buried fire hydrants all over," Plamondon said. "Please, take a few moments and help yourself and your neighbors out and clean out those hydrants."