Shopping for higher ed takes thrifty turn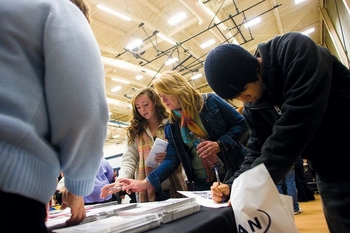 NASHUA – Karen Goff and her daughter Beth just took a big step toward walking down the long and complicated path of preparing for college.
They were both at a college fair event being held at Nashua High School North last week, and were perusing the more than 150 booths where college and universities were providing information about their programs.
"It's been an eye-opening experience," said Karen Goff.
Not surprisingly, cost is one of thebiggest factors for getting prepared, they said. And while hoping to help defer some of the cost through scholarships, they are also in the process of looking at student loans.
They're also exploring options such as the possibility of attending an in-state school and then transferring. Both Goff said she is considering starting out at Plymouth State University.
"We're looking at a more local college for the first couple years," said Karen Goff.
That's becoming a more common option among college-bound high school students, said Bill Hughen, director of guidance at Alvirne High School in Hudson. More students are looking at the University of New Hampshire and other state schools as an option.
"Those kids who wanted those schools outside New Hampshire can't afford it, so they're staying in state," he said.
But there are still students looking outside New Hampshire and Hughen said most of the concern about costs typically is coming from parents, not students. He stresses to students and parents that there are ways to pay for college, even given the difficult economic situation.
"I tell them not to let money at this point be a deciding factor," he said.
Many students are also looking at foregoing living on campus, which can knock off several thousand dollars in debt, he said.
Hughen said the University of Massachusetts Lowell has become a popular option, because it offers in-state tuition for some programs and is nearby.
Data shows that the cost of college is rising significantly faster than family income, which leads to students taking on more debt.
The average family income in New Hampshire increased 44 percent form 1996 to 2005, while the average cost of a four-year public or private college increased 79 and 72 percent, respectively, from 1999 to 2008.
Doreen Rinas, guidance counselor at Nashua High School South, said it's important for students to know how to apply for Free Application for Federal Student Aid (FAFSA) and be aware of the deadline for financial aid programs at schools they are interested in.
The school is holding a financial aid night Dec. 3, and then another financial aid night for Latino parents Dec. 4 with Esteban Lopez, director of diversity initiatives with the New Hampshire College & University Council.
"I know there's concern about the finances of college," she said. "The economic situation isn't very good right now."
New Hampshire ranks second highest in the nation when comparing average student debt loads. According to the Project on Student Debt, Granite State students graduated with an average debt of $25,211 in 2007.
Bob Lemay and his son Matthew, a senior at South, were looking for colleges where Matthew could study mechanical engineering. Matthew said it's a field he's interested in, but also one where he feels there will be jobs available after graduating.
Bob Lemay said this is his second go around with preparing for college, having already worked to secure loans for his oldest son to go to college. But he knows the economy is a little different now than it was then.
"It is more of a concern this time," he said.
Hughen said he doesn't see many students changing their career plans based on the job market in the field they are interested in.
"Kids have their goals," he said. "They're not usually going to pick a field because of the job market. They know what they want."