Shea-Porter calls for Wall Street regulation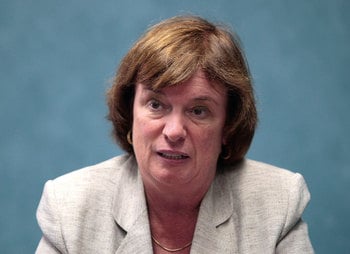 EDITOR'S NOTE: This is the ninth in an occasional series of stories based on interviews with candidates for federal and state office by The Telegraph editorial board.
MERRIMACK – Carol Shea-Porter doesn't know exactly how hard the nation's economic crisis has hit her own retirement plan. She doesn't want to look.
"I don't even want to think about it, but I know my husband said, 'It's bad,'" the congresswoman said in an interview with The Telegraph editorial board Monday. "He just left it at that."
Still, the incumbent Democrat running for re-election in New Hampshire's 1st Congressional District is confident the economy will turn around.
"I'm an optimist by nature and experience," Shea-Porter said. "It will take time."
The Rochester native, who in 2006 was ushered to Washington in a surprise victory over two-term Republican U.S. Rep. Jeb Bradley, said New Hampshire hasn't been hit as hard as other states because the banking system here did not fall into subprime loans.
Overall, Shea-Porter said the crisis calls for regulation of Wall Street institutions and legislation "to make sure this doesn't happen again."
Shea-Porter defended her votes against the $700 billion bailout package in recent weeks.
The initial bill was just three pages.
"We can write a longer bill to change the name of a post office," she said. "We were supposed to turn over $700 billion of hard-earned taxpayer money, and it wasn't a fleshed out idea at all."
The first call for a vote came quickly, she said, when she still had questions and suggestions. Shea-Porter said she wanted a committee to handle the money, not a single person, and she objected to the "golden parachutes" – heavy compensation packages – being afforded to the leaders of the flailing financial institutions.
"Yes, I want to do something, but I didn't feel like $700 billion dollars going to Wall Street, and not treating the bottom problem, was fair to the American taxpayer," she said.
She was also in the minority in voting against a revised, Senate bailout package, which eventually passed. Shea-Porter said she supports fixing the problem "from the bottom" with a second stimulus package that invests in infrastructure and jobs, and by taking away subsidies from companies that move jobs overseas.
"We have to change the way we take in revenue," she said. "We can't keep taking it from small business and the middle class."
While in office, Shea-Porter has served on the House Armed Services Committee. She said she learned there that the war in Iraq was "even worse than we expected" in terms of cost overruns, fraud, accountability and a lack of political reconciliation.
"Talk about withdrawing" is the next step, Shea-Porter said, with retooled efforts to increase troops and resources in Afghanistan. She is also concerned that government agencies communicate better about changes in China and Russia.
While still an opponent of drilling for oil in the Alaskan National Wildlife Refuge, Shea-Porter now supports off-shore drilling as a short-term action toward energy independence. She voted for the comprehensive energy bill that calls for offshore drilling but pointed to the bill's support of wind, solar and other technologies. That, she said, will create millions of new jobs and boost national security.
"This should be the new frontier for us," she said.
SHEA-PORTER ON THE ISSUES
Here are stances of U.S. Rep. Carol Shea-Porter on major issues.
HEALTH CARE: Supports privately delivered health care by allowing everyone access to Medicare, which she says has a lower administrative rate (3 percent to 4 percent) compared to insurance companies, where rates are up to 37 percent.
She also supports the "SHOP Act," which will allow small businesses across state lines to form a national insurance pool. She would also support tax breaks to businesses have in-house clinics, saving employees co-pays for basic check-ups.
EDUCATION: Shea-Porter wants to do away with the federal No Child Left Behind in favor of more fair testing measures, which would be up to the states. She said the government has put more money into the Pell Grant program to help college students afford higher education.
IMMIGRATION: Shea-Porter said illegal immigrants come to the country for jobs and that the best way to stop that is prosecute employers who take them in. She said the millions of illegal immigrants already here for many years need to integrate by learning civics and English.
CAMPAIGN FINANCE: Shea-Porter "totally supports" public financing for campaigns and says she does not take money from business political action committees, corporate-related money or money from lobbyists. She had tabled the idea of joining the Democratic Congressional Campaign Committee for fundraising purposes, but this spring signed on because her opponent "apparently declined" to run his campaign without similar types of funds.
"You can't go into any kind of a battle and be David and Goliath all the time, so, we have to have the support so that we can do the job for people," she said.