Shareholder wants to sell Pennichuck to Nashua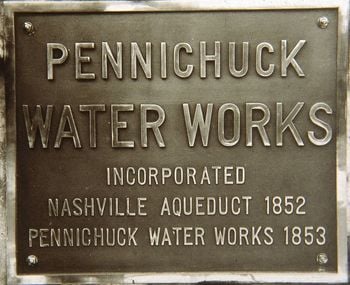 One of Pennichuck Corp.'s largest investors wants a seat on the utility's board of directors, partly to push a plan to sell the entire company to the city of Nashua.
The proposal, which has been given to the city and the water utility, would end up saving shareholders and taxpayers more money than taking just the utility by eminent domain, said Mario Gabelli, the billionaire owner of GAMCO Investors.
"Shareholders benefit. Taxpayers benefit. It's a win-win situation," Gabelli told New Hampshire Business Review in a phone interview Friday.
In its proposal, GAMCO said it wants Pennichuck to sell the entire company for $203 million, the same that it would cost the city to take just Pennichuck Water Works under the state Public Utilities Commission ruling that pegs the price at $243 million, with the inclusion of $40 million that would be put in a reserve fund.
Pennichuck is appealing the PUC decision, and the city hasn't yet decided whether it still wants to go ahead taking over Pennichuck under the PUC's terms.
Under the proposal, the city would be getting "the best possible deal" because it also would get 450 acres of watershed land to be used for public purposes, end up spending less money for the actual water works and be able to sell off those other utilities for $19 million, leaving the city with a total outlay of $183 million.
The shareholders would end up getting $33 a share, $2 more than under eminent domain, and they would get the money a lot more quickly. In addition, they don't have to assume the risk of selling off its other utility holdings.
The report said there were two other precedents for a municipality to take over an entire company in the public interest:
Florida's purchase in June of U.S. Sugar to obtain and protect threatened land in the Everglades.
The Tilton and Northfield Water's District's purchase of the Tilton and Northfield Aqueduct Co. for $4.1 million in 2005.
Pennichuck Chief Executive Officer Duane C. Montopoli confirmed he received a copy of the report and distributed it to board members, but the board hasn't discussed it yet. He said he didn't publicly disclose the proposal because he thought Gabelli was doing that.
When asked about the proposal, Nashua Mayor Donnalee Lozeau issued this statement Friday morning to NHBR:
"The city has not received any offer to purchase shares of Pennichuck Corporation from any party, including Mario Gabelli, or any of its affiliates. The city is actively pursuing all of its legal rights to acquire control over the water utility systems and related operations, including seeking to reduce the cost of acquiring these assets, so that the city may ensure the long-term provision of high-quality water service at the lowest possible cost to our citizens.
"The city is actively reviewing all of its options to achieve the acquisition of control over these assets."
On Wednesday, Gabelli disclosed that he had bought up more than 20,000 shares between Labor Day and Sept. 23, bringing GAMCO'S total number of Pennichuck shares to nearly 600,000, a 14.05 percent stake in the company.
In both the filing and its release, GAMCO said it wanted to place members on the Pennichuck board and that it expected such board members to engage in "dialog" with the company "on issues such as the use of cash flow and corporate governances, such as poison pills."
Poison pills are used by public companies to prevent hostile takeovers, but Gabelli said he has always opposed poison pills and that he had no intention of taking over Pennichuck.
"We don't want to run the company," he said. "We just want to maximize value for the shareholders."
GAMCO didn't talk to Pennichuck officials about its bid for board members, said Montopoli, who added, "I don't think it's a big deal."
Anyone can suggest members to the board, but only the board's nominating committee can recommend individuals, and they would still have to be approved by the shareholders.
The Pennichuck board, he said, "is always willing to consider qualified candidates to the board."
GAMCO, which stands for Gabelli Asset Management Company Investors, has a net worth estimated at more than $1 billion.
Gabelli's compensation – more than $71 million in 2007 – has raised hackles among some GAMCO shareholders who view it as excessive, given the size of the fund family. Some of his original investors have sued him, saying he was "looting" the company assets, a lawsuit that resulted in a $100 million settlement three years ago.