Selectmen begin Town Meeting season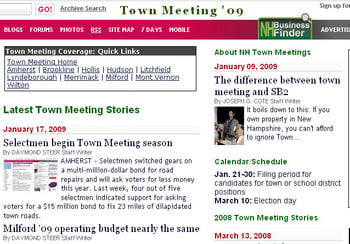 AMHERST – Selectmen switched gears on a multi-million-dollar bond for road repairs and will ask voters for less money this year.
Last week, four out of five selectmen indicated support for asking voters for a $15 million bond to fix 23 miles of dilapidated town roads. Only Selectman Brad Galinson objected, because he thought a smaller bond had a better chance of passing.
But on Monday night, a majority returned to being in favor of pitching a series of smaller bonds.
As it stands now, voters will be asked to approve a 15-year, $6 million bond in March, which is intended to be the first bond of a series. Selectmen expect to ask voters for an additional $6 million in 2011 and another $3 million in 2013, although those bonds would need to be endorsed by future boards.
Selectman George Infanti and others said they rethought their support of the larger bond because it would never pass in this economy.
"That number would probably scare everybody away," Infanti said of the $15 million price tag. Infanti, Chairman Bruce Bowler, and Selectman Tom Grella expressed the change of heart at Monday's meeting. Selectman Reed Panisiti said he still felt the big bond was the way to go, but said he'd "go along" with a smaller bond.
>>Town Meeting '09<< Selectmen and members of the Road Funding Analysis Committee say the bond is needed because town roads have been under-funded for years to the point where it makes more sense to rebuild some of them instead of just patching problem areas with DPW money in the operating budget. As for the operating budget, selectmen resolved to reduce their initial 3.6 percent increase to the proposed $9 million operating budget so that it comes in at under 3 percent. Cuts made Monday night include a half-percent cut to cost-of-living raises for all non-union employees, as well as cuts to accounts for postage, paving equipment, fuel, contingency for fuel overruns, building maintenance, and the town cable-access television channel.