Seacoast businesses team up for green awareness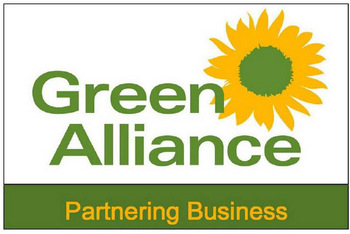 A new business-to-business networking group on the Seacoast is working toward raising awareness about green companies to both consumers and other businesses.
Through the Green Alliance, sustainable businesses are working together to pool marketing resources and form a co-op for consumers to have access to discounted green goods and services.
"We have two basic pillars of what we're trying to do. One is to raise the profile of businesses that are doing the right thing. The other is to offer the goods and services of those companies at a discount through a co-op," said Sarah Brown, the Portsmouth-based alliance's project director.
Member companies fall into two general categories — those that offer a green alternative to a standard product, such as organic lawn care, and those that have instituted some level of sustainability as a general practice within the company.
"We don't necessarily want the ones that have already done everything," said Brown about the group's membership makeup. "As long as they can show they've taken some steps, we'd encourage them to join."
Sprouts, buds and blossoms
The alliance offers two membership levels. Business Partner members pay yearly dues of $1,000 or more, based on the number of employees and receive assistance in strengthening their green initiatives as well as cross-promotional marketing services, business-to-business networking and inclusion in the co-op database of green companies.
Companies that are interested in becoming Business Partner members receive an in-depth evaluation of their green practices and can either fall into the "Sprout" level, for those just beginning their sustainability programs, the "Bud" level, for companies that have already established a number of green practices, or "Blossoms," those that have undertaken sophisticated and comprehensive initiatives to create a fully sustainable businesses.
Business Partners also must allow their customers to become part of the Green Alliance's marketing database, since cross-marketing is a hallmark of the group. These customers are offered the option of a free six-month membership in the co-op.
Monthly networking meetings and a monthly e-newsletter highlighting recent developments and best-practices of member companies is also included with Business Partner membership.
Through the Green Alliance's seven-member environmental advisory board — a veritable who's who of regional green leaders, including Michelle Veasey of the New Hampshire Sustainable Lodging and Restaurant Program and John Rudolph, director of the Bi-State Green Project — businesses will receive assistance and advice on how to grow their sustainability practices.
"We expect that Sprout members, for example, within a year will move to the Bud level," said Brown.
Companies that only want to be a part of the co-op pay a yearly fee of $35 to get access to a Web directory of businesses that offer green alternative goods and services at a discount.
"A lot of times, it just costs more to do the right thing," said Brown. "Discounts help bring down the cost a little bit."
'Doing the right thing'
The Green Alliance had its beginnings in the conversations of two business owners, Andrew Keller of Simply Green Biofuels of Stratham and James Reinertson of Purely Organic Lawn Care, based in York Harbor, Maine.
"They had known each other for years and began to offer discounts to each other's customers," said Brown. "They began to believe that this kind of cross-promotion could really be helpful to other companies."
Brown, who also formed the original organization that developed into the Energy Efficiency Committee in Kittery, Maine, said that she heard of more and more businesses that were "doing the right thing" in going green, but consumers hadn't heard what sustainable initiatives those companies had undertaken.
She met with Simply Green and Purely Organic and was found it was "just incredible what they were already doing, but the community didn't know."
While many chambers of commerce have green committees and even larger nonprofit organizations, such as New Hampshire Businesses for Social Responsibility, exist to support businesses in their sustainable endeavors, Brown said she sees the Green Alliance as "working on a smaller scale, but offering larger services."
"There are a lot of great organizations out there, but while chambers work to promote their members in an overall, regional way, we're really trying to raise the profile of individual businesses," she said.
The Green Alliance also is a for-profit group funded largely from membership dues. Businesses with five or fewer employees pay an annual fee of $1,000, those with six to 15 employees, $1,500, and those with more than 15 employees pay $2,000 each year.
Is Brown worried that the price might be a little steep for many small businesses?
"It depends on the kind of business," she answered. "You could spend $1,000 on an ad in the Portsmouth Herald. It all depends on how the company wants to budget their marketing dollars."
She did say, in certain circumstances, the Green Alliance will work with companies interested in becoming a Business Partner but cannot afford the membership dues, "but they have to be 'early adopters' and be real environmental leaders."
While thus far alliance members are all based on the Seacoast, Brown said she would consider inviting a business in if it offered something that wasn't available in the area.
"We want a diverse portfolio of businesses," she said. "The point is to inform, educate and encourage businesses and consumers to make wiser choices."
For more information on the Green Alliance, visit www.greenalliance.biz or call 603-817-4694.
Cindy Kibbe can be reached at ckibbe@nhbr.com.