Seabrook relicensing request brings up old and new issues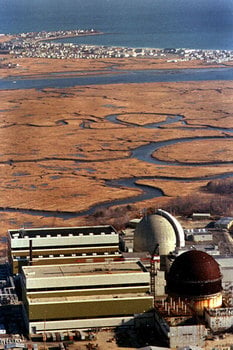 Thirty years ago, the battle over the Seabrook nuclear power plant became a symbol of the national debate over nuclear power. While one plant at Seabrook was eventually completed despite a massive national civil disobedience campaign, it came at a cost that drove Public Service of New Hampshire to bankruptcy, plans for a second Seabrook plant were scrapped, and the march to nuclear power was halted for at least a decade afterwards.
Today's plant owner – NextEra Energy (a subsidiary of Florida Power and Light) – has decided to get a two-decade jump on relicensing the plant – for better long-term planning, it says. But the relicensing effort – thanks in large part to the devastating earthquake and tsunami and subsequent radiation releases from several nuclear plants at Fukushima in Japan – could very well bring a national focus on Seabrook again.
Seabrook might seem like ancient history today, but it is one of the nation's newer plants, and as such still has 20 years left on its license, and didn't have to apply for renewal until 2025. So when NextEra submitted its 2,500-page License Renewal Application and Environmental Report in June, it came as a bit of a surprise.
While the U.S. Nuclear Regulatory Commission did not supply statistics about such early submissions, "most of them apply later," said NRC spokesman Neil Sheehan of other nuclear plants.
But it is not "unprecedented" to do so, said NextEra spokesman Alan Griffith. Griffith said that NextEra was applying for relicensing early because "it gives us better opportunity for planning for maintenances activities and expending funds. We want to get cost certainty for businesses reasons."
Besides, Griffith said, "Our record is very good. We are in a very good position to reapply."
A business decision?
Opponents give different reasons and a different spin.
"It gives them a kind of stability and makes them more attractive in the marketplace," said Ray Shadis, executive director of Friends of the Coast, an intervenor and critic of the plant. "Investors prefer to put money into something that will bring returns for 40 years, rather than closing down in 20, and that's worth something to NextEra."
But Shadis added that he thought that NextEra was trying to take advantage of the "nuclear renaissance," in which regulators and even environmentalists began to look more benignly on nuclear power compared to carbon-producing alternatives that contribute to global warming.
"That was, until March 11," said Shadis, referring to the day the earthquake and tsunami crippled the nuclear power plants at Fukushima, creating both radioactive and political fallout.
The fact that things are running smoothly now shows that the Seabrook plant is at the bottom of the "bathtub" curve, according to Paul Gunter, director of the Reactor Oversight Project at Beyond Nuclear (and a co-founder of the Clamshell Alliance, which fought the plant in the 1970s and 1980s).
Under such a curve, Gunter testified at Aug. 19, 2010, relicensing hearings in Hampton, more problems occur in the beginning of a project's life, when kinks are being worked out, and at the end, when things begin to fall apart. NextEra, said Gunter, wanted to secure relicensing, before the plant got too old and Seabrook's track record wasn't as good.
Whatever the reasons, said critics, things change a lot in 40 years, and there is no way to plan that far ahead.
The application is "the equivalent of green fruit," Gunter said. "It's not ripe. It excludes a whole generation of citizens. It basically constitutes nothing but nonsense, an amassing of needless, meaningless detail."
NextEra, however, said that whatever conditions are approved in the license aren't set in stone, and that the plant is perfectly capable to adjust. "The underlying assumption of these objections is that you could coast. Nothing could be further from the truth. There is no difference, when it relates to our commitment for a reliable plant, whether the application is approved now or 20 years from now," said Griffith.
The early application, on the other hand, did backfire against NextEra in one respect. It gave opponents a better argument that over such a long period, renewable energy – particularly wind power – could become more viable. Indeed, they claimed that wind would outstrip nuclear production in 40 years, both locally and nationally.
NextEra – also one of the nation's largest producers of wind power – tried to dismiss such an argument as speculation. Besides, nuclear must always be included in the mix, Griffith said. But the NRC said there was enough evidence to at least explore the issue further.
The schedule now calls for approval in roughly a year if no hearing is granted and at the end of next year if there is one, but that's the best-case scenario. For instance, relicensing of Vermont Yankee in Vernon, Vt., took six years, and ended up being approved. That approval particularly rankled anti-nuclear activists, especially since it was the same type of plant as those that failed at Fukushima. Seabrook's reactor is different, but it is closer to the ocean, and there has been more time for the Fukushima disaster to sink in.
On April 14, a month after the quake, some 45 groups and individuals petitioned the NRC to suspend all nuclear reactor licensing until the agency completes its crisis examination of the project. Further, the NRC was asked to establish an independent commission to look at reclicensing.
The NRC will consider that petition at the national level, Sheehan said, but in the meantime it will not affect the Seabrook relicensing process.
Fuel rod storage
Griffith said NextEra also is seeing if anything could be learned from the Fukushima disaster, but it won't delay its draft environmental impact statement, due out on May 13.
He stressed that "New England is not Japan. The largest earthquake to hit New England was 6.6 magnitude back in the 18th century, whereas Japan's was 9.0 magnitude."
Secondly, Griffith said, Seabrook is on a marsh, not the open ocean, and there are protected beaches. And the plant is built to withstand the worst that history has thrown in its direction.
But thanks to global warming, that geography could change, warned Doug Bogen, executive director of the Seacoast Anti-Pollution League, a longtime opponent of the Seabrook plant. Bogen pointed to predictions that the sea level would rise more than a meter by the end of the century if global warming doesn't accelerate. "The question is, how quickly will it accelerate? How many meters higher will it be in 50 or 100 years?" he said.
With just a one-meter rise, according to Bogen, the plant would be surrounded by water.
Griffith, however, shrugged off such worries as pure speculation, comparing it to the possibility of the plant being attacked by martians. Any rise in seawater, he said, would be "very gradual, and as things change we would be able to work with that scenario."
One of the big sources of radioactive contamination in Fukushima was from the spent fuel rods stored on-site. There were more than 10,000 assemblies stored at the six reactors. At Seabrook, there are currently more than 1,128, said Griffith, with 936 spent fuel rods in storage pools. The pool capacity is about 1,236, so every three years the rest are put in the relatively safer dry casket storage at ground level. Unless some permanent on-site storage solution has been found in the next 40 years (and none has been found in the last 40), the supply of spent fuel roads at Seabrook should grow roughly to 2,700 assemblies.
Griffith said that the site has more than enough capacity to safely store the rods, but the topic of spent fuel rods will not be part of the relicensing process. The NRC panel rejected even including an estimate of the cost of a severe accident, arguing that it is an issue outside the scope of relicensing.
Indeed, any part of the plant that moves is outside the scope of the relicensing process. Only "passive" elements that are not replaced, moved or regularly serviced are to be examined. But even all of those were not admitted for discussion.
For instance, the NRC rejected discussion of a contention that there was not adequate inspection and monitoring of buried pipes that might contain radioactively contaminated water or fluid.
Shadis said his group is worried about corrosion, especially of some 30,000 high-pressure tubes – with the "dimension of a little finger" that "wave like seaweed in the current," he said – as well as thicker tubes that can corrode on the inside. The concern is mass blowouts or explosions that could lower the pressure and cause major damage.
Electric cables
Opponents aren't the only ones worried about aging equipment. A recent NRC aging audit, conducted in conjunction with relicensing, raises numerous questions about monitoring at the plant. Some issues raised were "leaks (that) had been occurring in cryofit couplings due to hydrogen embrittlement" and "the lubricant used for stud removal (that) may potentially cause aging effects due to corrosion and may not be stable at operating temperatures."
The audit did agree with most of the plant's measures to correct the situation, and the owners will answer other concerns in their upcoming environmental impact report. Such is the back and forth of the licensing procedures.
In any case, much of this doesn't have anything to do with radioactive leaks, but once back in 1999, some tritium did escape into the containment basin. None escaped beyond that, and it has not happened since. Since "the inadvertent release of radioactivity does not specifically relate to the ability of buried structures to perform their intended functions … maintain pressure and to provide flow," the NRC said it was beyond the "scope" of relicensing.
Electric cables are within the scope of the relicensing process, and is one of the major issues raised by plant opponents, who say the cables were not built to be underwater, especially corrosive saltwater.
"The right thing to do is to pull these puppies out and replace them," said Shadis. Not only does it violate NRC regulations to use equipment in situations that it wasn't designed for, he said, it could lead to disaster. In an emergency situation, when power surges through the cables to cool down the reactor, there is a chance that they could short out, cutting off power. Fukushima's loss of power due to the earthquake was the major factor in the accident, but it might be more than that, because even when power was restored, workers had to restring cables that Shadis said could have been shorted out.
"They'll look at the manholes once every two years to see whether there's any water in," testified Paul Blanch, an engineer and nuclear industry critic at the August hearing. "If there's any water in there, they'll pump them out. Use a little engineering common sense. When you have manholes connected by conduits that contain cables, and if I have water in each end of the conduit or the manholes and I pump it out and it's good for another two-years – how do we ever, ever know that those cables are dry? We don't."
But Griffith said that these fears are misplaced.
"We are confident that all these systems are safe. When we find a problem we fix it. We don't wait until someone tells us to do something," Griffith said.
Bob Sanders can be reached at bsanders@nhbr.com.