Scout wants to build orienteering course at Merrimack preserve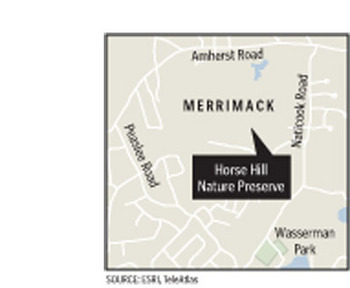 MERRIMACK – Outdoor lovers could find themselves off the beaten path if a new orienteering course lands at Horse Hill Nature Preserve.
Milford resident Matthew Linford, a member of Boy Scout Troop 48 in Nashua, who is hoping to construct the course to earn his Eagle Scout award, will pitch his plan Thursday to the Merrimack Town Council.
Orienteering is an activity in which people use detailed maps and navigational tools, such as a compass or global positioning system, to make their way to points in a particular area.
As Linford explained it, orienteering involves getting off the trails and trekking through wooded areas – in short, he said, "roughing it."
Before this project, Linford, a home-school student who hopes to attend Brigham Young University, didn't know much about orienteering. That, he added, is precisely why he chose developing a course as his project.
What he learned is that it could be useful for local Scouts to earn orienteering badges and for general public enjoyment.
"Today, with the GPS's that guide our cars from place to place, it might be nice to know how to guide yourself without those tools," Linford said.
Andy Powell, chairman of Merrimack's Conservation Commission, said that group has already endorsed Linford's plan for the 563-acre preserve.
"I think for people who have walked the trail and are looking for something else, this could be a little bit of a challenge," Powell said. "This will allow people to see some of the parcel's highlights."
Powell also said he checked with the Milford Conservation Commission on the success of an orienteering course in that town's Tucker Brook Town Forest and was told it's a popular attraction. Rita Carroll, Milford's conservation coordinator, said it's a low-maintenance feature that people seem to enjoy.
That's exactly Linford's goal, though his blueprints are extremely thorough.
If he gains approval, Linford will be fundraising to purchase some $300 in materials for course markers. His next step would be to make a master map, first by combining information from existing maps and then by recruiting volunteers to canvass certain areas for natural features that could impede an orienteer.
Linford would then identify good points for markers, avoiding wetlands and other sensitive areas, and seek final approval from Deborah Huffman, a volunteer on the Horse Hill Nature Preserve subcommittee.
Lastly, Linford would install the markers, conduct a few test runs and if all went smoothly, he'd make the final map available to the public.
While he hasn't designed the course, Linford estimates it will be no more than 4 miles long. He aims to have it finished by the end of March.