Schools cautious about changes to leveling system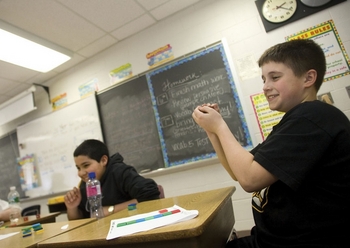 NASHUA – If any changes are going to be made to the school district's practice of segregating middle school students by perceived academic ability, they won't be coming anytime soon.
Last week, the school board's curriculum committee held its third meeting to look at middle school leveling. The committee has been holding meetings since the beginning of the school year, and there are wide-ranging opinions among staff about whether leveling should continue.
Committee members have heard from administrators and teachers about how leveling is implemented in their schools and whether they believe the system needs to be changed.
After all the work and discussion, the message is: Use caution.
Board of Education member Robert Hallowell, chairman of the curriculum committee, maintains that the school board still needs to be able to determine what the problem is, examine possible solutions and find ways to ensure that any changes made are actually helping students, he said.
"All of those things have to be in place before we make any big moves," he said.
By comparison, the school board in 2003 made the decision to level middle school students swiftly, amid sweeping changes in the school district with the opening of the two new high schools and the realignment of grades at the city's schools.
Beginning in sixth grade, students are separated into three groups of classes – foundation, extension and honors – in the four major subjects. Students aren't leveled at the elementary schools.
At the high schools, students are leveled, but high school students also have more of an opportunity to choose their own courses and levels.
One of the central themes during the discussions has been the issue of equity.
Enrollment data show certain minority groups of students, poor students, special education students and English Language Learner students are being disproportionately lumped into the lowest-level foundation courses.
"What we're doing now isn't working," Dan O'Donnell, assistant principal at Fairgrounds Middle School, told the committee in November.
At that same meeting, several teachers spoke in favor of leveling, arguing that grouping all kids of all different abilities would dilute education and overburden teachers.
Henry Castonguay, a teacher at Fairgrounds Middle School, told the board at the meeting that doing away with leveling would mean having to teach different skill levels at the same time, meaning high-end students would lose out.
He also downplayed the idea that being in low levels somehow stigmatizes students.
"It is not a punishment or a branding to be in a lower group," he said.
Looking ahead
The question now is what happens next.
Hallowell said he would be putting together a summary of everything the committee has heard to present to the full board, which could then be used to determine what changes need to be made.
Hallowell said it's possible the board could make changes allowing for more flexibility in moving students throughout the levels for next year.
There could also be another committee formed that would include parents and teachers to come up with a recommendation, he said.
Either way, the dialogue thus far has been productive for people on both sides of the argument, giving an opportunity for differing opinions on the subject to be heard, he said.
"I just think we need to be cautious," Hallowell said. "We need to make sure we know what the problem is that we're trying to solve."
Paul Asbell, principal of Pennichuck Middle School, said he's glad the board took on the issue of leveling, but that he doesn't expect any major changes to happen overnight.
"It's a very complicated task," Asbell said. "It's not a question that's going to be answered in the immediate future."
Asbell's school has stood out in the discussions as having a more flexible grouping system than the other two middle schools in the city, making it easier for students to move throughout the levels during the school year.
He has been an advocate of heterogeneous grouping, or mixing all students together, a system he said gives all students the opportunity to excel.
Colette Valade, principal of Elm Street Middle School, has also expressed support for moving to a heterogeneous grouping system at the middle schools.
Asbell said what he has heard during the discussions has been a call for more flexibility among the schools. Administrators have said the scheduling system makes it difficult to move some students into different levels in the middle of the year.
"We know that our kids are constantly changing," he said. "A static program doesn't serve them well."
One of the other questions is whether students in the foundation-level courses are getting access to the same curriculum as those in the higher levels.
A review of the special education program by state education officials raised that very question after finding special education students were being disproportionately placed in low-level classes.
At last week's meeting, Eric Schroeder, director of special education, said the district is required to provide equal opportunity to special education students.
"The question I am raising is whether there is an uneven distribution of students among the levels," he said, "and whether there is a different way of doing instruction than what we're using right now."
The district's special education program will be under "focused monitoring" by state education officials next year, Schroeder said. The question that will be asked is why there is an achievement gap between special education students and other students, he said.
A growing achievement gap
Also at last week's meeting, Brian Cochrane, director of accountability and assessment, said the city's standardized test scores show that students in foundation-level courses are making the least amount of progress.
Enrollment data provided to the board by Scott Jaquith, assistant principal at Mount Pleasant Elementary School, showed that of the 157 ELL students in the middle schools, three are currently enrolled in an honors course. The rest are mixed evenly between extension and foundation courses.
Jaquith, who worked as a case manager for ELL students in the middle school, said when students move into the city from another country, they historically have been placed in lower-level courses because it's difficult to tell what their abilities are.
In many cases, it's impossible to get their records from their previous school, he said.
"We're making our best guess," he said. "In a lot of cases, we're guessing wrong."
Jaquith said he has found it problematic to move students up into higher levels if they showed the need to move.
One example Jaquith used was of a student who moved into the district and didn't speak English. The student was placed in foundation-level classes, but after displaying exceptional ability in math, he was moved up to extension, Jaquith said.
After trying to move him even further up into an honors course, Jaquith said he got resistance from the teacher, who was concerned about the fact that he couldn't speak English.
"She just didn't feel it would be appropriate for him," Jaquith said.