School officials: Teamwork first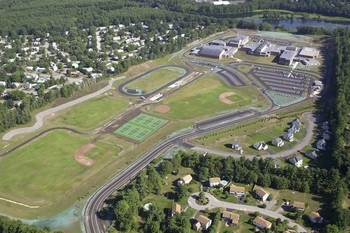 NASHUA – Collaboration and assistance, not takeover and penalties.
That was the message from state education officials, who met Thursday night with school board members and administrators to talk about the district's corrective action status.
The federal No Child Left Behind act, passed in 2002, requires states to implement some form of "corrective action" when a district repeatedly fails to meet benchmarks on student proficiency in math or reading.
Lyonel Tracy, the state
Com missioner of Education, said the state takes that responsibility seriously but seeks to work with local education officials and not simply mandate drastic changes.
"That's the way we look at it. We've taken a much different approach than what's been dictated by No Child Left Behind," Tracy told school board members.
Tracy said he wants to look at the positive things going on in the district and build on those. Nashua is positioned to bust the myth that students in urban school districts can't succeed, he said.
"You really just need a few more resources and maybe a different approach," he said.
Nashua has been a district "in need of improvement" since 2004 for insufficient reading scores. After failing to make Adequate Yearly Progress last year, the district is now required to produce a corrective action plan.
If the district fails again this year, that plan must be implemented.
No Child Left Behind provides a list of sanctions for the state to choose from when implementing corrective action, including replacing school staff and taking over operations of the district.
Mary Heath, Deputy Commissioner of Education, was also at the meeting, and said the state wasn't interested in those options, noting that state law prohibits the state from taking over schools and school districts.
"The other choices did not seem appropriate for the state," Heath said.
Instead, the state is requiring the district to "institute and fully implement a new curriculum based on state standards." The state will also be required to provide professional development.
At the end of the meeting, Tracy and Superintendent Christopher Hottel signed a memorandum of understanding that outlines what the district has to include in its corrective action plan.
The plan is due back to the state March 31, 2009.
The agreement requires that the district will describe in its plan how it will improve and measure achievement for English Language Learner students and that the district will meet full special education compliance.
There is also a requirement to review high school attendance policies.
Heath, who has been assigned as the liaison to the school district, said there would be opportunities for changes along the way.
"This is a document that we will work on together," Heath told board members and administrators. "We at the department want this to be in partnership with you."
There will also be other officials working with staff to help develop the plan and quarterly status updates, she said.
Heath said much of the work needed to develop the plan has already been done and that the district is already using many of the tools offered by the state to boost achievement.
"We don't want you to have to go out and recreate a plan, but build upon the District In Need of Improvement plans that you already have in place," Heath said.
Some board members expressed concern about whether the district will continue to struggle to meet the standards.
Board member William Mosher pointed out that Nashua has more diversity than almost any other district in the state, with many students who enter the schools and can't speak English.
"It's tough when you see that they have been making progress, but then they don't have the opportunity at home to practice what they have learned," said Mosher.
Tracy said the district could look at what other districts have done to make improvements, citing an example used in the Laconia school district to raise test scores.
Board member Sandra Ziehm said it's difficult for Nashua to be compared with other districts when it is dealing with unique issues.
Brian Cochrane, the district's director of accountability and assessment, said the district has struggled most with improving the scores of special education students.
Nashua is one of five districts in the state to enter into corrective action status, a result of insufficient reading scores on the New England Common Assessment Program, a statewide test.
Because it is in corrective action, the district will get priority for grants and other funding.
Much of the meeting was spent discussing the perceived flaws in the accountability system of No Child Left Behind and the expectation that improvements are now on the horizon.
Tracy told board members that he is hopeful that the New Hampshire's "Follow the Child" initiative could be used as a blueprint when considering changes the law.
Tracy said that unlike No Child Left Behind, his plan takes into account the growth of individual students from year to year.
"We want to be a voice in rewriting No Child Left Behind, not simply reauthorizing it," he said.