School mischief topic at forum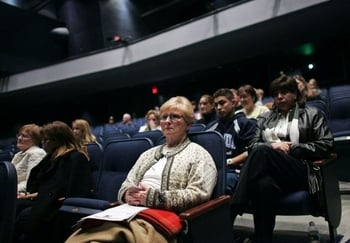 NASHUA – Yes, there are gang members in Nashua and gang members attending Nashua's schools. No, you don't have to fear walking down the street or sending your kids to school.
That was the message Nashua school and police officials relayed at a Nashua High School North Parent's Advisory Council meeting Thursday night. About 60 people came to the school's auditorium to hear from the school's two school resource officers about student behavior concerns relating to cell phone use, cyber bullying and gang activity.
"Obviously everyone's concerned about the gangs," said Deb Gilbert, whose son is a sophomore at Nashua North. "Is there going to be areas (kids) can't walk anymore? I never had to worry about that in Nashua before."
School resource officers Mark Anderson and Shaun Mailloux gave a presentation laden with tips for parents and signs they should look for in their own kids' behavior.
"For us, this is a call for help from parents," Nashua North Principal David Ryan, a former Auburn Police officer said. "We've been hearing about these things, and it's time to address it. You don't need to be worried, but it's important to identify there is a small percentage of students who like to misbehave."
Police have identified more than 100 people, ages 12-22, who identify themselves as gang members, according to Nashua Detective Sgt. Frank Bourgeois. While that's probably 100 too many, it doesn't mean the city and its schools are devolving into a war zone, he said.
"I wouldn't be worried at all," Bourgeois said. "I'd be conscious that there are gangs around, but I don't think it's risen to the level of being worried."
Ryan said he wanted to hold Thursday night's session and engage parents before it gets worse.
Anderson, who is also an assistant football coach at Nashua North, described the several gangs in the Nashua area, such as the Latin Kings and the International Posse, and some of their signs, as well as warning signs that a child is a member of a gang.
He explained that most gangs in nonmetropolitan areas such as Nashua are "hybrid gangs," a group of individuals who adopt the behavior and customs of major gangs but aren't technically affiliated with them.
The "gangs" most known in Nashua, Folk Nation and People Nation, aren't gangs at all, Anderson said. Rather they're loose alliances between several gangs in the area, but not gangs in and of themselves. The Gangster Disciples and International Posse are members of Folk Nation and the Latin Kings fall under People Nation, he said.
Anderson showed about a dozen photos taken from MySpace and Facebook of kids in Nashua flashing gang signs, including one taken at Nashua North's prom this spring. He also showed a YouTube video of a fight between Nashua students recorded on a cell phone.
"It's happening. It's happening with our kids, with your kids," Ryan said. "What I want to impress upon you is I can't help your kids unless we do it together."
Cell phone abuse and cyber bullying were another topic of discussion.
Ryan said school administrators and advisory council members organized the meeting after seeing media reports about a Salem High School case in which students were exchanging pictures of two semi-nude students.
There was an incident earlier this year at Pennichuck Middle School where a student used a cell phone to record a fight, which was posted on YouTube before being pulled down.
Mailloux went over some of the numerous ways students can use technology and social networking Web sites such as Facebook and MySpace to harass others, as well as what to do if such bullying is discovered.
Ralph and Joanne Kelloway said they've seen changes in Nashua and are shocked by some of the things their son, a sophomore at Nashua North, has to worry about.
"Up here things have changed so much that it concerns me," said Joanne Kelloway, who grew up in Boston. "There are a lot of things you don't expect your kids to have to be worried about."
Both said the alleged gang activity was particularly worrisome, and they attended Thursday's session to learn what they should be on the lookout for.
Ralph Kelloway grew up in Nashua and graduated from high school in 1972. The trouble today's kids are in goes far beyond the minor beefs he grew up with, he said.
"It's not as simple nowadays," he said.
Ryan said school administrators are organizing two assemblies next week to cover the same material with the roughly 2,000 Nashua North students.