School chief wants better place for kids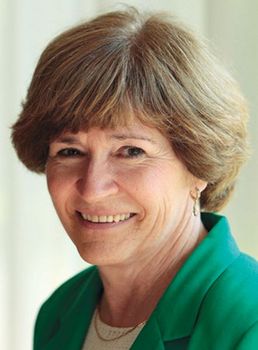 MILFORD – Susan Hodgdon, the new superintendent of the Hollis/Brookline School District, is passionate about learning, respectful of different perspectives and eager to bring out the best in students, faculty and other staff.
"I want to make the world a better place, a really good place for kids," Hodgdon said during an interview at her Milford home shortly after relocating from Lyman, Maine, in early July.
Hodgdon assumes the top post in the district at the same time it welcomes five new administrators – three principals and two assistant principals.
An educator for more than three decades, Hodgdon succeeds Richard Pike, who retired in June.
Hodgdon comes to Hollis following a five-year tenure as a school administrator in central Maine, where she was assistant superintendent for three years and superintendent for two years, overseeing schools in Litchfield, Sabattus and Wales.
The mother of two adult daughters, Hodgdon earned a bachelor's degree in liberal arts at California State University, Long Beach and began a career in 1972 as a paraprofessional in a school reading program in Maine. She earned her teaching other from Lesley University in technology and education.
"I've had a very different career path than a lot of people," Hodgdon said.
Hodgdon grew up in the Belfast, Maine, area, the third oldest of eight, raised by a single mother who in spite of only a ninth-grade education, instilled in her daughter a love of learning and a belief in herself.
"She believed education was the most important thing you could ever have," Hodgdon said of her mother.
An administrator for 17 years, Hodgdon spent 13 years as a classroom teacher. She taught remedial math and remedial language arts, focusing on "very challenged learners" in the regular education classes, she said.
She took a career detour to work as an insurance agent.
"The grass looked greener," Hodgdon said.
After the birth of her second child, however, she returned to teaching, attracted by a schedule that didn't include nights and weekends, a staple of insurance sales.
Hodgdon was pleased to discover that the classroom hadn't lost its appeal.
"I loved school," she said. "I played school a lot growing up. I helped the teachers. I helped the kids in my classes. I'd get my work done fast, be the teacher's helper."
Hodgdon said making the transition into administration came easily, a result of her "exploratory" approach to teaching and encouragement from her supervisors.
She didn't mind going to work yearlong while teachers took the summer off, nor did she balk at the number of meetings she was expected to attend, including many held in the evenings.
"I had very good administrators who spent time mentoring and modeling administration, and I always found the summers too long," she said.
As an administrator, Hodgdon embraces the same philosophy that drove her teaching career: Education should foster lifelong learning and respond to a changing world.
In Hollis, for example, she has discussed adding courses such as engineering and Chinese to the secondary curriculum.
"I'm just curious about the world as a whole, and I like to see possibilities," she said.
Hodgdon plans to steep herself in local issues, examining concerns ranging from overcrowding at the high school to proposals to dissolve the cooperative school district she oversees.
"Whenever there are questions like these, it's important to pursue them," she said.