School chief up for same job in Mass.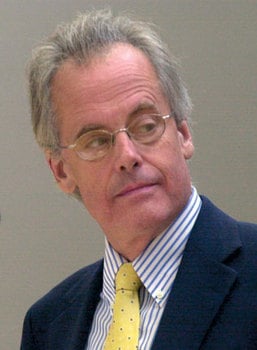 NASHUA – Superintendent Christopher Hottel is one of four finalists to lead the school system in North Andover, Mass., news that he announced to district employees via e-mail last week.
In an e-mail sent out Friday afternoon, Hottel told district staff that his wanting to leave for another superintendent position in Massachusetts should not be taken as a negative reflection of his experience in Nashua.
Hottel said that returning to Massachusetts has been part of his career plans from the beginning.
"At this point, I am only pursuing what I need to do at this stage of my life," he wrote.
Hottel, 62, came to Nashua in 2005 after working in the Haverhill school system. Before taking the assistant superintendent position in Nashua, Hottel turned down an offer to be superintendent of the Gardner, Mass., school system.
In 2006, Hottel replaced former Superintendent Julia Earl on an acting basis after she was placed on paid leave. In 2007, he was named the permanent superintendent.
Hottel is in the process of being evaluated by the school board, which would be the time when the board would consider upping his salary. He currently makes $150,000.
Hottel said his looking for a new position is not about the potential for a higher salary and he doesn't expect the Nashua school board to get in a bidding war with North Andover.
"I'm not doing this to stimulate the board to up the ante," he said.
Hottel was in the running for several other superintendent jobs in Massachusetts when the school board was negotiating a contract with him in 2007. The school board ultimately signed Hottel at a salary that made him the highest paid superintendent in the state.
In an interview Monday, Hottel said returning to Massachusetts would allow him to be vested in that state's retirement system. He said he also has concerns about the stability of New Hampshire's retirement system.
Hottel said he received a handful of responses to his e-mail over the weekend, mostly from people wishing him well and telling him that they hoped he stayed in Nashua.
Hottel said he sent the e-mail so staff heard the news from him before hearing about it in the media.
"I wanted to let them know that I really like Nashua. I enjoy working here. It's challenging and exciting," he said Monday, adding that there was nothing that drove him to seek to leave.
Hottel was contacted Thursday, letting him know he was one of the finalists.
The other finalists are: Kevin Hutchinson, assistant superintendent in North Andover; Richard Hoffman, superintendent of Ashland, Mass.; and Kelly Clenchy, superintendent of Orono, Maine.
Hottel said Nashua has been dealing with crises since he started, first with the circumstances surrounding Earl and then last year with the threat of a strike by teachers.
"We've had to spend most of our time regrouping," he said.
He called the district "the best in the state" and praised the staff for its work ethic. As the district now plans for the future, it makes sense to hand the reins to someone who is able to make a long-term commitment to Nashua, he said.
"In a way, it's a good time," he said.
Representatives from North Andover will conduct a site visit in Nashua on Tuesday of next week, followed by a public interview with Hottel the following Thursday, he said.
North Andover, with a population 27,202, is a town located just east of Lawrence. The district has an enrollment of 4,546, about a third of the size of the Nashua school district.
The North Andover job is being advertised with a salary range of $160,000 to $180,000 with a performance-based bonus system.
The North Andover school board is looking to name a new superintendent sometime in January, with that person starting in July. Hottel said if he got the position, he would stay on to finish out the school year.
Hottel's contract with the district runs until June 30, 2010. If he got another superintendent job, the school board would likely let him out of the deal.
School board President Tom Vaughan said the news took him and some of the other members of the board by surprise.
Even though the board knew Hottel planned on going back to Massachusetts at some point, Vaughan said he didn't think it would come this quickly.
"I didn't think this was going to be the year he was going to do that," he said.
Vaughan said he would be disappointed if Hottel left for another position.
School board member Jack Kelley said there isn't much the board can do except wait.
"I don't think there's much that the board can do about this," Kelley said. "This is a personal decision he's making at this time."
Even if Hottel doesn't land the North Andover job, it's likely that his future in Nashua will be limited to two or three more years at most.
Hottel said when he signed on as the district's permanent superintendent, he did so with an understanding that he had a timetable of working in Nashua for three to six years before returning to Massachusetts.
Hottel said he has applied for other superintendent positions in Massachusetts, in addition to North Andover, mostly near the New Hampshire border. Hottel said he doesn't have any plans to move from his Gilmanton home.
Hottel said he plans on retiring around the age of 70, and hopes to work in a small suburban Massachusetts school district.
Bob Sherman, president of the Nashua Teachers Union, said Hottel has surrounded himself with a strong staff at central office, and is concerned that if Hottel leaves, other top-level administrators will follow.
Prior to Earl, Nashua has only had two superintendents – Berard Masse and Joe Giuliano – over a period of nearly three decades. When Hottel leaves, his replacement will be the city's third superintendent since 2005.
Sherman said the difficulty of getting superintendents to make a long-term commitment is a problem for many school districts, including Nashua.
Christopher Gosselin, principal of Main Dunstable Elementary School, said he hopes Hottel stays but understands that it is ultimately his decision.
"He led our district through some really rough waters," he said.
If Hottel does end up leaving, that would mean another superintendent search and a transition in leadership, he said.
"It'd be difficult, but we'd make it through," he said.
Here is the entire text of the e-mail:
To all of my colleagues in Nashua—
I am writing to you to let you know in advance that there may be some reports in newspapers about my being a candidate for Superintendent of Schools in certain Massachusetts communities. I want you to know personally, and before any media reports, why this is happening.
I came to Nashua about four years ago from Haverhill, Massachusetts. At the time, I had been elected Superintendent in Gardner, MA and was ready to continue my career in MA. When the possibility of coming to Nashua arose, however, as Assistant Superintendent, I knew that this was the community I wanted to work in. The Nashua school system was, and I believe now is again, one of the premier school districts in New England. So I came to Nashua with the expectation of being here long enough to make a difference in the schools of this great city and then resuming my career in Massachusetts.
As we are all aware, things changed quickly in June 2006 and I was appointed Acting Superintendent. Over the past two years we have been through a lot together.
Throughout this time, I have had other opportunities for Superintendent positions, and have always turned them down. The reason is that I love working with you in Nashua. The passionate commitment of Nashua teachers, support staff and administrators is second to none. Working in a city environment with the challenges of diversity, especially in a community that is changing as fast as Nashua, has been the most compelling experience of my professional life.
I have not been offered a position in Massachusetts at this time, but I do want to let you know that I have been selected as a finalist for the position of Superintendent in North Andover. There are four candidates for this position, so the process is only in its initial stages. With this in mind, I may be with you for the next few years. My long-term career goal does have me returning to Massachusetts at some point, if it does not occur now.
Again, I know you have many more immediate concerns as you do the wonderful job you are doing with our Nashua students. I do, however, want you to hear this news from me first, and not from the papers.
We have accomplished a lot together in three years and are now on a secure path. The teacher contract and other contracts are in place, with the clerical contract scheduled for negotiations in the new year. The Board of Education is committed to you and to our students through its many initiatives in long-range planning. These include strategic planning, the policy committee review of all district policies, the curriculum committee focus on the broader issues of instruction, assessment and curriculum, the finance and operations committee study of safety and security issues, and many other initiatives. In addition, we have a strong relationship with the state Department of Education, with the Commissioner's office, and we are receiving much help in our efforts to achieve yearly progress on our state testing. Of course, this is due primarily to your efforts, to your deep and individual involvement with your students and colleagues, but the state is supplementing that with the resources at its disposal. The frequent visits of the Commissioner to Nashua, and the Governor's presence at our opening day this past September, are only some indications of how important Nashua is to our state education leaders.
As I work through my long-term career goals, please know that what you read in the papers about my plans or goals should not cause you a moment's doubt that the school administration and in particular your Superintendent, is one-hundred percent behind you.
Again, my career path may very well see me with you for the next few years. The papers, however, will probably seek to publicize all the events surrounding a superintendent's career. At this point, I am only pursuing what I need to do at this stage of my life.
This is in no way a reflection of how I feel about working with you here in Nashua. As long as I am your Superintendent I will strive to match your commitment and dedication to the students of Nashua, and will continue to work with you to ensure Nashua remains the best school district in the state.
Christopher Hottel
Superintendent of Schools
Nashua School District