School bus driver's cat killed by speeding motorist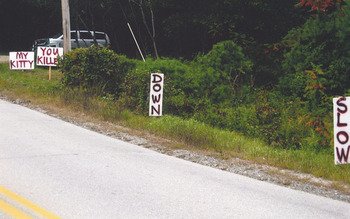 AMHERST – "You have to have a sense of humor," says veteran school bus driver Martha Brown, who has been entertaining her young passengers with quips and stories for 25 years.
But what happened to her cat was no laughing matter. Squeaker, an 8-year-old yellow male, died after a car hit him on Merrimack Road earlier this month.
Brown and her son, Martin, are sad about the cat and appalled at drivers who speed by their property, oblivious to whom they might hurt.
"I just wish people would slow down," said Martha Brown. "Today it was a cat. Tomorrow it could be a kid."
The Browns live at the end of a long drive off Merrimack Road, which has curves and bad sight lines; there are children on bikes and people walking their dogs in the neighborhood, they said, not to mention numerous deer.
Police Chief Peter Lyon said cars on Merrimack Road and other commuter corridors in town are "certainly not driving 30 mph."
"We enforce the speed limit on these roads that get a lot of commuter traffic. That's always been a road that receives attention," but police cannot spend all their time there, he said.
Mrs. Brown, as she's known to the thousands of children she's ferried to events over the years, has driven school buses since 1983.Martin Brown says drivers use Merrimack Road as a shortcut to avoid "inane stoplights on Nashua Street and the traffic obstacle known as the Oval."
The Browns are disappointed with neighbors who wrote "Deal with it," and other unsympathetic comments on the back of one of the temporary homemade road signs Martin Brown put up on the road last week asking drivers to slow down.