School aims for 'outdoor class'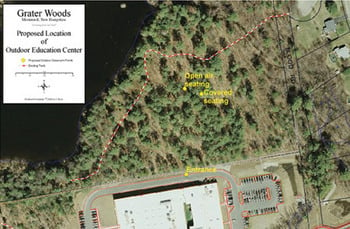 MERRIMACK – Merrimack Middle School's newest classroom will stretch as far as the eye can see.
That's because it will be located in the school's backyard, which happens to be Grater Woods, one of the town's largest conservation areas.
Early last week, the Merrimack Conservation Commission approved a plan for an outdoor education center, which was pitched as a collaborative effort among The Friends of Grater Woods, the school and a commission subcommittee.
For students, the center – designed as an outdoor classroom, of sorts – will serve as a meeting place for classes, a launch point for nature walks and an observation area for animals, plants and trees, said Chris Nawrocki, a Merrimack Middle School science teacher.
And, she said, the center won't be for a single purpose.
"When we talked about an outdoor education center, we never considered it to be just a science project," Nawrocki said.
"Science is probably the driving force, but it's going to have multiple uses. The whole school will be using it in one way or another."
Nawrocki said math students could develop plot points and survey techniques.
Art and language arts students could be inspired to draw and write journals. Social studies students could study the agricultural and historical points of the area.
"It gives us a place to sit, take a good look at the area and the fine details we find in a forest setting," Nawrocki said.
Gage Perry, president of The Friends of Grater Woods, said the plan should unfold in three phases, depending on weather and funding from grants and donations.
The first step is to clear a path from the back of the school and level an area for outdoor seating, scheduled to be done by October.
A second step, targeted for 2010, is to build a roof over the seating area and enhance observation points of the nearby beaver pond.
The last step, in 2011, would be to further enhance the covered classroom and begin work on an environmental trail, among other improvements.
"We do have a long-term vision of putting up a pole barn, a basic structure, that will provide some weather protection and allow the kids to use it in several seasons of the year," Perry said.
In addition, Perry said he hopes that the general public will take an interest in the outdoor center, especially during the summer.