Save cash, grow your vegetables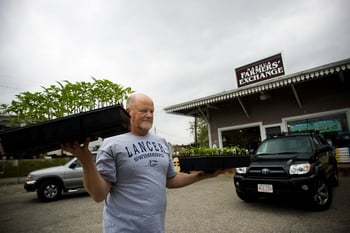 The troubled economy means more green thumbs may sprout up in backyards this year.
Margaret Hagen, director of the UNH Cooperative Extension Family, Home & Garden Education Center, said she's fielded plenty of phone calls from people seeking help setting up personal gardens.
"This year, far and away, we've had the most requests for learning how to grow vegetables," Hagen said, adding that the number of community discussions on personal gardening has bloomed from two to about 10 in Hillsborough County alone.
This year, seven million more households will be planting vegetable gardens, herbs and fruits this year than last, according to a 2009 study by The National Gardening Association. Of the 43 million American households expected to plant gardens this season, 34 percent will do so because they're motivated by the recession, the study said.
But where to start if you haven't trolled in the soil since childhood? Hagen offered these tips to first-timers:
Keys to success
Start small, Hagen said. A good first garden size would be 300 square feet. If that seems overwhelming, start out with containers, five-gallon pails, hanging planters or earth boxes. All can be purchased at a local garden center or researched online for the cheaper, homemade version.
Also, Hagen said, it's good to have an experienced gardener nearby as a resource. And keep your expectations in check.
"Everyone will make mistakes," Hagen said. "But that's half the fun. Pay attention, ask questions, and it will work out the next time."
Get the lay of the land
Hagen said the two most important things for beginning gardeners are location and soil preparation.Choose a level spot that gets at least six to eight hours of sunlight (8-10 hours is ideal.) Keep your plot away from buildings, which throw shade, and trees and shrubs, which have disruptive root systems.
Hagen recommends getting soil tested so gardeners know how much fertilizer, lime and compost to add. Tests are available through UNH Cooperative Extension. For more information, email soil.testing@ unh.edu.
When to plant
Gardeners want to wait until the soil is warm enough, Hagen said, so anytime after May 25 is considered safe. In southern New Hampshire, there are roughly 120 growing days a season.
What to plant
Think about what you like to eat, Hagen said, but keep in mind some veggies are easier to grow than others. A good basic starter crop could include tomatoes, cucumbers, zucchini, green beans and regular greens. These crops are relatively easy to grow and yield a lot, which means you can save money by growing them. Typically, tomato, cabbage, broccoli, eggplant and pepper do better if they're transplanted – as in, purchased as a small plant. Zucchini, cucumber, beans, greens and carrots often grow well from the seed.
Maintenance
You can't just plant veggies and let them fend for themselves. The two basics of garden maintenance are weeding and watering, Hagen said.
Weeding is a no-brainer: make sure you rip out any shoots that are trying to choke your veggies. Watering is a little trickier. Hagen said plants should get one inch of water a week. The key is to water infrequently (say, twice a week) but deeply, so that water sets in and reaches the roots. Tip: If you go on vacation, make sure someone fills in the watering schedule.
Resources
UNH Cooperative Extension offers a toll-free information line with a master gardener on the other end: 1-877-398-4769. Check out www.extension. unh.edu for 150 gardening-related fact sheets.
Also, check out your local library or town hall for information on your local garden club or agricultural resource.