Roberge re-elected by District 9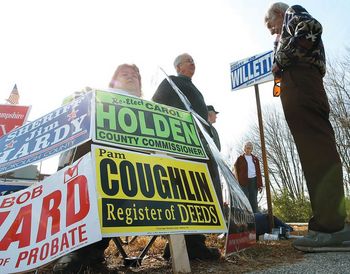 Republican state Sen. Sheila Roberge held a significant lead over Democratic challenger Mike Kaelin for the District 9 seat among polling places reporting at press time Tuesday night.
In Bedford and Merrimack combined, Roberge received 14,562 votes, and Kaelin received 10,390.
According to unofficial sources, Roberge also won in New Boston, by a vote of 1,596 – 1,241. The Telegraph had not obtained vote counts from Lyndeborough, Mont Vernon and Greenfield at press time.
Roberge, of Bedford, who was first elected in 1984, is the longest-serving state senator in New Hampshire.
"I'm gratified they chose to re-elect me," said Roberge on Tuesday night. "I think I've done a good job of representing them, and I'm pleased that they agree with that. I would encourage anybody who really has an idea on something we are doing, or something we're not doing, to give me a call."
Kaelin, a Lyndeborough engineer, served one term in the state House of Representatives from 2006-08.
Kaelin planned to make energy and the environment, consumer protection and helping small businesses his top three priorities in the Senate.
He had criticized Roberge's record, claiming that she hadn't accomplished much in her 24 years in the Senate other than animal rights measures, and that she voted against the Regional Greenhouse Gas Initiative.
Roberge defended her opposition to RGGI as she stood outside the Bedford High School polling place Tuesday.
"I did vote against it, because I want to know how much it would cost," Roberge said. "Yes, it may be a good idea, but let me look at what it costs first."
Curbing spending and opposing broad-based taxes are priorities that Roberge emphasized in her campaign for re-election.
Among the animal-welfare legislation she supported is a new law requiring adequate shelter for outdoor dogs, which Gov. John Lynch signed into law in June.
Roberge said she's also proud of legislation she wrote several years ago that created the state's spay-neuter program for cats and dogs. The program discounts the procedures for animals adopted from shelters or for low-income pet owners.
"It's the most successful program in the country, and others have emulated it," said Roberge.
Kaelin's public service record is shorter, but in his two years in the state House, he worked on five successful bills, including legislation to expand net metering (which allows homeowners to run their electric meter backward when they generate renewable energy from their homes).
On consumer protection, he supported legislation that limits the interest on payday loans, something that Roberge has also supported.
Kaelin also worked on HB1242, which allows musicians playing in a bar to have a drink, a law Roberge criticized as "frivolous and self-serving" because Kaelin is a musician himself.
But without the law, restaurant and bar owners could be subjected to hefty fines should a musician have a beer during a break in the show, which would be unreasonable, said Kaelin. Supporting small business owners is one of the priorities Kaelin campaigned on.
Roberge wouldn't say Tuesday afternoon what would be on her agenda during her next term; she wanted to wait for the results before making plans.
"I never presume to get elected; I never take people for granted. I don't take my election for granted," Roberge said Tuesday afternoon.
She did say that she had received several well-thought-out letters from schoolchildren requesting her help in making the Chinook the state dog.