Rivier forum focuses on sustainability's benefits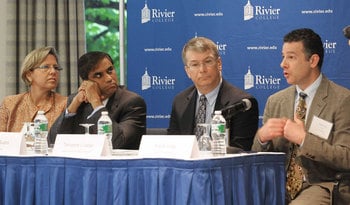 A recent forum as part of Rivier College's President's Circle found a range of businesspeople agreeing that environmentally friendly business practices can have a positive impact both on the planet and a company's bottom line.Among those taking part in the Nashua forum, "Good for Business, Good for the Environment," was Lisa LaFave, vice president, global customer solutions for UPS, who said environmental sustainability is part of a broader discussion at her company — one that also includes social responsibility and economic prosperity. She said UPS's business strategies and sustainability plan are interconnected, emphasizing operating efficiently, leading by example, acting responsibly and delivering environmentally friendly services. "We have to ask ourselves, are we doing the right thing? Does this align with our corporate values? What are the costs? ROI?" said LaFave.She said the company has developed comprehensive strategies to optimize delivery routes, eliminating an estimated 100 million miles in the last four years. The company also introduced an alternative fuel fleet, paperless invoicing and eco-responsible packaging.
Another participant, Frank Siega, chief executive of Two C Pack, told the audience when the company moved from Massachusetts to New Hampshire, it constructed a new facility — one of the largest geothermal installations in the country. To offset the energy the company uses, Two C Pack purchases wind power credits; to eliminate landfill use, the company sends waste to a waste management plant to be converted into electricity. The company buys paper from sustainably managed forests and has worked to reduce the waste stream in packaging.
"When you're looking at sustainability, you can't just sugarcoat the surface," said Siega.
According to panel participant Terry Large, director of business planning and customer support for Public Service of New Hampshire, sustainability often creates a tug-of-war battle between policy and cost.
"The economics don't currently support renewable energy sources," Large said. "Market prices have gone down, which makes it difficult for new players to enter the market." PSNH has thus chosen to focus on efficiency programs, developing large-scale renewable sources, partnering with renewable developers and making environmental and efficiency upgrades at existing facilities.
Also taking part in the panel was Kedar Gupta, chief executive of ARC Energy, which is developing technologies that are aimed at reducing the cost of producing energy-saving LED bulbs. Gupta said it was his passion to create new technologies and new jobs.
Featuring business and community leaders, the Rivier College President's Circle forums are held twice a year, in the fall and spring.