River bacteria spikes near border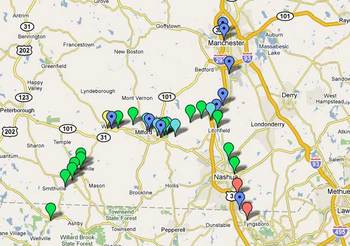 The levels of bacteria in the Merrimack River soared near the state border earlier this week, for reasons that remain mysterious.
This result was found Tuesday, during the latest biweekly testing of Nashua-area rivers done by local volunteers.
George May, of the Souhegan Watershed Authority, who has been leading the testing since it began more than a decade ago, said Thursday that he couldn't explain the results found by testing at the Sagamore Bridge joining southern Nashua and Hudson, and the Tyngsborough Bridge in Tyngsborough, Mass.
The levels of E. coli found at those two locations Tuesday morning were more than six times higher than what is considered safe for swimming at public beaches.
The confusing aspect is that bacteria counts on other parts of the Merrimack River, as well as virtually all of the Souhegan River, were extremely low.
"The results are high, they are unusual, and I guess the only thing we can do is keep an eye on them," May said.
River Test Map
The most likely explanation for a burst of bacteria is a release of pollution in one spot, and the most likely candidate for a pollution release in the southern part of the Merrimack River is Nashua's wastewater treatment plant.
In particular, heavy rains can overwhelm the drainage system, causing a "combined sewer overflow" in which some untreated sewage is carried into the river, bypassing the treatment plant, by water washing off roads, parking lots, yards and the like.
But May said he talked Thursday with Mario Leclerc at the treatment plant, and Leclerc indicated that it was unlikely an overflow occurred in the days before Tuesday's testing.
The city isn't absolutely certain about that, May said, because new monitoring systems are being put online, but May said he thought a recent overflow in Nashua was unlikely because the bacteria levels were lower than they usually are following a sewer overflow– less than 600 colonies per milliliter, compared to well over 1,000 colonies that usually follow overflows.
"Perhaps we will retest after a couple of days," May said.
The biweekly testing, which is done every summer, began last month. The results at the three dozen test sites have been almost universally excellent so far this year.
These two readings are the first of the summer marked by red pins on The Telegraph's interactive Google map of the tests, indicating the worst results.
May noted volunteers are still needed to collect samples on some Merrimack River locations north of Nashua. The tests take about a half-hour every other Tuesday morning. The next tests will be done Aug. 4.
For more information, contact georgemay@comcast.net or karenmattor@gmail.com.