Retired principal wins school board seat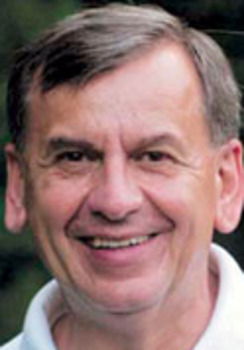 NASHUA – Retired school principal Charles Katsohis will now sit on the other side of the education-management table, winning a board of education seat in a special election.
Katsohis defeated retired school teacher Dan Hogan on Tuesday in a race to replace Edwina Kwan, who resigned in July.
Katsohis won with roughly 55 percent or 3,334 total votes to 45 percent or 2779 votes for Hogan.
"I did my best to speak to the people," Katsohis said when reached at home Tuesday night. "For the next 15 months that will be my goal: to make it a better place for the children of Nashua."
Katsohis had not heard the news that he had won until he was reached at home. When he relayed the news there was a loud cheer.
Katsohis figured his experience, in his words, "dedicating my life to education here," made the difference in the election.
Hogan, a retired Air Force pilot and former teacher, said he had little chance with the teachers union coming out in full force for Katsohis. He also said many voters he approached had no idea there was a special election for the board seat and thus were ill-prepared to choose the right candidate.
"I ran exactly as I wanted to do," Hogan said. "I took every step I wanted to take."
Hogan said he would analyze the numbers to see what he could have done better.
Katsohis will now join his former bosses on the board, serving out the remaining 15 months of Kwan's term, which expires at the end of 2009. Neither candidate had any political experience coming into the election and both said they are unsure of whether they will seek a full four-year term in the next general election.
Katsohis, who spent his entire 41-year career in education in Nashua, said his experience with the district would allow him to hit the ground running.
Katsohis, 64, was principal of Bicentennial Elementary School for 28 years. He transferred to principal of Ledge Street Elementary School in 2005 and retired last year.
Hogan, 76, said he would bring more of a fresh perspective to the board, tagging Katsohis as an "insider." Hogan also said that Katsohis would have a conflict of interest, because two of his daughters currently work in the school system.
Hogan, who volunteers as the pole vault coach for Nashua high school students, is the uncle of current school board member Dennis Hogan.
Katsohis earned the endorsement of the Nashua Teachers Union. The union's Committee on Political Education also contributed $500 to his campaign.
Bob Sherman, president of the union, said that money does not come from union dues but from voluntary contributions.
For some voters at Amherst Street Elementary School in Ward 3, a check mark for either Hogan or Katsohis boiled down to recognizing the either name or simply knowing someone who knew of one the candidates.
But for a few, a little thought went into the decision.
Marty and Nona Storer said they weren't impressed with Hogan's answers to questions that matter to education, whereas Katsohis has served as an administrator for a long time and had a pulse on the district.
Sam Taylor, though, preferred Hogan for his values. Taylor, pastor of Nashua Baptist Church, said Hogan shares his opposition to abortion and that stance matters in public office.
In that ward, Katsohis built on his lead, garnering 388 votes to 311 votes for Hogan.
Albert McKeon can be reached at 594-5832 or amckeon@nashuatelegraph.com.