Retired Army man, 87, with service in 3 wars gets to vote for black president-elect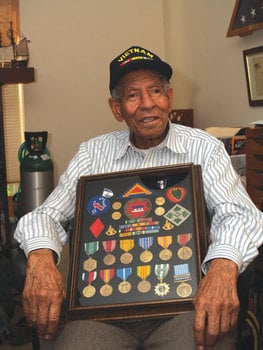 AMHERST – In 1941, Raymond Thornton Coles wasn't welcome to serve in the Marines because of the color of his skin. But 67 years later, he got to vote for the first black president.
Coles, a veteran of three wars – World War II, Korea and Vietnam – recently reflected at his apartment in Parkhurst Place in Amherst on the changing times he's seen.
Coles didn't hesitate to join the fight after President Franklin D. Roosevelt asked Congress to declare war in the wake of Japan's surprise attack on Pearl Harbor.
Although he wanted to serve in the Marines, he wasn't accepted because the Marines didn't let blacks serve until 1942. Undeterred, Coles joined the Army instead.
While serving as an engineer on Saipan in the Pacific Theater, Coles was responsible for building roads, bridges and airstrips.
He served much the same function in the Korean conflict. However, in Vietnam, Coles served as a foot soldier.
Of the three wars, Coles said he thought Vietnam was the hardest for him.
"We were just ducking and dodging; it was terrible," Coles said. "You never knew who (the enemies) were and where they were at."
Today, the 87-year-old is a deacon at his church, the House of Prayer in Merrimack, and is responsible for making sure all its bills are paid on time.
Another task that keeps him busy is fighting for his additional veteran's benefits – Coles only gets 90 percent of the benefits he believes he is eligible for. Coles said he needs additional care to deal with problems with his leg.
Last week, this man who was rejected by the Marines because of the color of his skin, cast a vote for Barack Obama, now the nation's first black president-elect.
"I wanted to see if it could happen," Coles said. "Martin Luther King's 'I Have a Dream' came true. Everybody said he couldn't do it, and I'm glad he did."
Before the New Hampshire primary, Coles switched his party affiliation from Republican to independent to support Obama,
During the interview, Coles said young people should stay active and serve their country. With the service, a young person can learn a trade and pay for college, he said.
"You don't get something for nothing," said Coles, who grew up in Amherst, Mass. "You work for what you get. Do something for your country; don't just sit around doing nothing."
But he also said if you need help, ask for it.
Years after his retirement from the Army, Coles said he may have bum knees and an "old ticker," referring to his heart, but he thanks God for life each and every day, many of which he spends with his five nieces, who still live in the area.
By contrast, Coles was far from religious in wartime. In fact, during the Vietnam War, Coles said he loved to go into town for drinks.
"I did what I wanted," Coles said. "I used to buy beer by the case."
Coles said he found Jesus about 15 years ago with the help of his second wife who encouraged him to pray for the strength to stop smoking. He said it worked, and he threw out a carton of cigarettes and a bunch of cigars.
"I haven't smoked since," Coles said.
All in all, Coles said he's happy with the way his life has turned out.
"I've had a wonderful life. I will not complain about what I've done," Coles said.