Restoration project wins student group high honors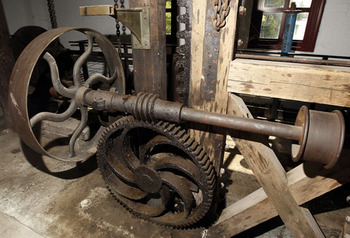 Upcoming gatehouse events
Eleven years ago, a group of junior high school kids from Nashua rode with their teacher out to the end of a scraggly dirt road mostly hidden behind a sprawling building of offices and garages. There they spotted the object of their trip – a graffiti-laced, sad-looking little building that appeared to serve no purpose. They could easily have turned back, asking their teacher to find a quicker, less laborious way to teach them about Nashua history. But not these kids – somehow they sensed the opportunity for a lasting, real-life history lesson lay within the crumbling bricks and granite before them.
Today, thanks to the kids, who, under then-Fairgrounds social studies teacher Mary Coe Foran, formed the Fairgrounds Student Historic Preservation Team, and with financial and personnel support from city officials, that building – the Mine Falls Park gatehouse – has been restored to its 19th century heyday and a new life as a showpiece of Nashua's storied industrial manufacturing era.
While word of refurbished gatehouse has gotten around Nashua over recent years, resulting in more and more visitors to that end of Mine Falls Park, the project's success has now reached the state level with its recent selection for an "outstanding achievement in preservation" award by the New Hampshire Preservation Alliance.
Upcoming Gatehouse Events
This afternoon, present and former SHPT members, along with several city officials, are attending an awards ceremony at the alliance's headquarters in Concord for the awards ceremony. They will be honored along with representatives of 12 other outstanding preservation projects selected statewide.
"This place has come a long way . . . it's so gratifying for everyone involved to get an award like this," said Amy Gill, who works in the city engineer's office and is restoration project manager. "We're so happy we were able to bring it back . . . it takes a long time, and there are things we still want to do."
The gatehouse was built in 1886 by the Nashua Manufacturing Co., a huge textile mill that occupied much of the city's historic Millyard from its founding in 1823. The firm's operations were centered in what's now the Clocktower Place apartments.
The company built the gatehouse as part of a mammoth project designed to divert part of the Nashua River through the city to the Millyard, where flowing water would power much of the mills' machinery. The project marks the start of water-powered industry in Nashua.
The gatehouse sits part below and part above ground next to Mine Falls. Its five underwater gates were designed to regulate the flow down the hand-dug canal. Several years ago, divers were brought in to inspect the underwater gates. One was cracked, but the rest were in fairly decent condition, it was reported at the time.
Today's awards ceremony is also very well timed. The gatehouse will be open for public viewing this weekend, as part of the citywide Three Days of Nashua History program. (See related information for times). According to Gill, the house is already an attraction for passersby, who frequently stop in.
"Anytime we're here working and the door is open, people stop in," she said. "They typically say, 'I never knew what this place was . . . can I take a look?' They're fascinated," Gill said.
This is the 20th year the New Hampshire Preservation Alliance – founded in 1985 to promote the preservation of historic buildings, communities and landscapes through education and advocacy – has presented awards for various preservation projects, according to executive director Jennifer Goodman.
"There are a varying number of recipients each year, depending on the quality of the nominations," Goodman said Monday. "This year's long, illustrious list of winners, I believe, reflects the increased number of varied and vibrant preservation projects going on in the state."
Goodman said she's familiar with Nashua's gatehouse project and is pleased to see it selected for an award. "It's exciting to see them get statewide recognition for all they've done on that building and its surrounds," she said. "As I recall, the (SHPT) was also recognized several years ago for their advocacy."
In April 2008, past and present SHPT members gathered at their adopted gatehouse with several city officials to celebrate the project's 10th anniversary. A highlight was the presentation of the annual Hugh Gregg Citizenship Award to former SHPT member Jaclyn Leeds, now a student at Wellesley College, for her dedication to the team that continues today.
The award is named after the former Nashua mayor and New Hampshire governor who strongly advocated for the preservation of Mine Falls and its park. Hugh Gregg's son, U.S. Sen. Judd Gregg, is cited time and again by school and city officials for his efforts in securing federal Housing and Urban Development grants for gatehouse restoration and other Mine Falls improvement projects.
"The grants that Sen. Gregg sponsored have provided our biggest financial boost," Foran said at the time. Added Nick Caggiano, superintendent of city parks, "Most of this work is possible because of those federal grants."
Also that day, Foran spoke on the team's formation.
"Even after SHPT members leave (Fairgrounds or Nashua), most carry this project with them in one way or another," she said.
"Anyone who believes that young people lack interest in history or in their community haven't met the Student Historic Preservation Team," she said. "I have the greatest admiration for the students and their continued efforts, whether those efforts are as historians, active citizens or aware parents," Foran said.
"They recruit one another . . . all I do is facilitate their efforts."