Residents remember longtime nurse for helping people, creating good will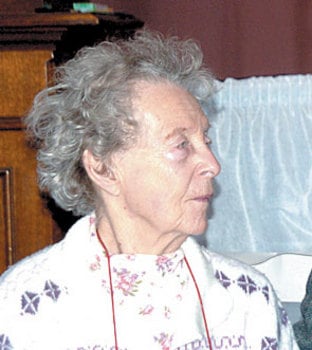 LYNDEBOROUGH – If the occasion was one that involved helping people, Betty Stevens was there.
As longtime Lyndeborough resident Lucy Schmidt put it, "I don't think there is anyone in Wilton or Lyndeborough who wasn't affected by her."
Elizabeth "Betty" Stevens, 91, died Sunday, Jan. 3, after a long period of illness. She and her husband, Art, moved to Wilton in 1952, and then to Lyndeborough in 1975 when they purchased an old farm on Old Temple Road where their daughters could have horses. Stevens continued to care for those horses for many years after her children left for their own homes.
She and her husband met while they were both serving in the U.S. Air Force. He died in 1988.
Stevens was many things: school nurse in Wilton and Lyndeborough, health officer in both towns and a Red Cross volunteer. She also worked with the Lions Club, the Salvation Army and the Second Congregational Church in Wilton – basically any organization helping people in need.
She is perhaps best remembered as the founder of the Wilton-Lyndeborough Ambulance Service in 1974. The service now includes Temple. She was the service's first director and held that post for nine years.
Jim McEntee was a Lyndeborough representative to the group that formed the service.
"She was the one that made it work," McEntee said. "She did all the things necessary for it to happen. She created so much good will. And she had a great rapport with the doctors (in the Nashua hospitals) because of her work there."
He recalled a town meeting where a donation to a regional health service was being debated. "Things were getting a little testy. I was the moderator and called on her. She got up and very quietly explained it to the town, why it was important. It passed about unanimously."
He said he later spoke with a resident who had opposed the donation. "I asked him if he had learned anything," McEntee said, "and he said, 'Yes, don't argue with Betty.' "
McEntee added, "I always said the good Lord only made one Betty Stevens and then broke the mold. It was a great privilege to work with her. She was always right there, helping people."
Former selectman and longtime Lyndeborough resident Bob Rogers went a little further.
"I always called her our resident saint," he said. "She was a thoroughly good person. If there is anyone who has the unreserved respect of the town, it is Betty. Right to the end she was giving if she could."
Much of that help was private, personal and publicly unnoted.
One of her favorite projects was The Christmas Store at the Congregational Church, which was begun in the 1960s by the Rev. Gerald Scribner and Stevens, who was then the school nurse.
"For years, school nurses and various organizations had been delivering food to needy and shut-ins," Stevens said in 2002. "We decided to coordinate our efforts.
"School nurses tend to know who needs help," she added.
Stevens served as school nurse for 22 years, retiring in 1985. Since she had a teaching degree from New England College, she also taught health classes at the high school. While at Wilton-Lyndeborough Co-op High School, she founded a chapter of the Future Nurses Association, which inspired many young people to enter the profession.
She received many honors and recognition from the organizations she worked with, most recently serving as Grand Marshall of the Wilton Old Home Days parade in 2004 and being named Lyndeborough's Outstanding Citizen in 2006, when the annual town report was dedicated to her.
Lucy Schmidt summed it all up: "She was just one real nice person."