Residents old and young seek shelter from the storm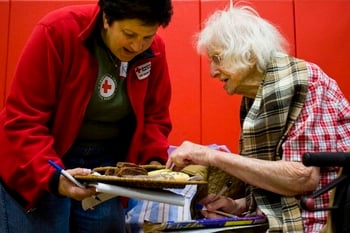 MILFORD – Probably the last time Polly Kenick was in a Red Cross shelter was in the 1930s when she worked as a substitute nurse in Exeter.
But Friday afternoon the 99-year-old Kenick and 12 other women from the Edgewater Apartments in Wilton were in the gym of the Heron Pond Elementary School eating cookies and waiting to settle into their cots.
An ice storm Thursday night knocked down thousands of trees and tree-limbs throughout the area, and the falling trees knocked out power lines to about 250,000 homes in southern New Hampshire, including the Wilton elderly housing apartments.
By 1 p.m. the American Red Cross had set up 50 cots for those who had to leave their homes because they lacked heat.
"My daughter lives in Lyndeborough," said Kenick, "but she can't get over" because her road was blocked by falling trees.
This was the second time Shirley Boissonnault, also of the Edgewater Apartments, had been in a shelter.
"A couple of years ago I went to Nashua, during the April floods, for five hours," she said.
Emergency officials estimated, however, that this time power might not be back on until Sunday, and Gov. John Lynch said perhaps not until next week.
Milford Fire Chief Frank Fraitzl stopped into the Heron Pond shelter around 3 p.m.
"I've never seen anything like this before," said the chief. "There were 80-foot trees" across the roads.
At 3 a.m. parts of town looked like a war zone — "that thought ran through my mind more than once," he said. "We're still going to see more trees come down."
Still, 98 percent of Milford's roads were open to traffic, though some of the outlying roads, like Osgood and Ball Hill, were still closed.
On the Milford Oval, every restaurant seemed packed with people who'd escaped their chilly houses for warmth and food.
At the Riverhouse Café, Brad Craven and his three young children were having breakfast and then planned to go to Hampshire Hills for swimming and showers.
Mont Vernon and Milford are "like two different worlds," he said. "We were weaving and dodging" fallen trees and branches on Route 13, and we came down the hill and it's civilization."
"All night long I could hear the popping and snapping in the woods." Brian and Linda Higgs were eating at the Café on the Oval. They said if it got too cold in their house they would go to Merrimack, to the home of Linda's son, who has a generator.
A shelter Hudson town officials had set up at the town community center was winding down Friday afternoon after a busy morning.
Hudson fire Lt. Mickey Rudolph said about a dozen people were at the shelter at its busiest, including two families with three children apiece.
"We just had the families leave so its quiet," she said.
Officials were planning to close the shelter between 4-5 p.m. and send anyone else with nowhere to stay to Nashua South High School where the Red Cross set up an overnight shelter.
Most of the people who spent some of Friday at the Senior Center, warming up and enjoying beef stew, coffee and snacks from the Salvation Army, had found hotel rooms or family or friends to stay with, Rudolph said.
Gerard Jutras and his daughter, Karen LaRosa, Pelham residents, were spending the afternoon locked in a game of Trivial Pursiut.
"We were warm in bed but we had to get out sometime," LaRosa said. "I kept hearing sirens and saws so I knew there was a lot going on outside."
The ice and branches brought down the phone lines attached to his house, Jutras said, and the temperature inside had dropped to about 50 degrees by the time they left. Since they have a well and an electric pump, they didn't have running water either.
"We're trying to take it one day at a time," LaRosa said. "We're very worried about the next two days."
Lita Sigman, a Hudson resident, was just plain bored. She'd been at the senior center since 10 a.m. and had tired of her crossword puzzles.
"I never saw anything like this," she said. "I'll be all right. I'm 87 years old. I'm a survivor."